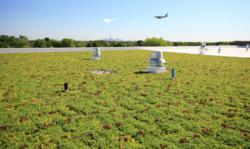 LiveRoof is proven in more than 50 flourishing installations across Chicagoland
Spring Lake, MI and Chicago, IL (PRWEB) June 23, 2011
LiveRoof®, LLC, the preeminent horticultural science company that tops the green roof industry, announced the appointment of Michael R. Selleck as architectural specialist to provide sales support in the Chicago area. Selleck is responsible for providing technical and consultative support to architects, developers and building owners who are planning green roof projects.
"Mike Selleck comes to us with proven abilities in customer-focused sales and service, an education in urban planning, and a mission-driven approach to environmental design," said Dave MacKenzie, horticulturalist and president, LiveRoof, LLC. "Well-versed in many architectural design methodologies and tools, he serves as a resource in the process of planning, designing and specifying green roof projects."
"With its unsurpassed horticultural expertise, LiveRoof offers the most advanced and horticulturally refined green roof solution. The LiveRoof® Hybrid Green Roof System is the only green roof installed with full-grown, mature plants thriving in a sustainable ecosystem," said Selleck. "That's proven in more than 50 flourishing LiveRoof installations across Chicagoland on commercial and office buildings, retail outlets, colleges and schools, private residences, and at Midway Airport."
Michael R. Selleck has a background in sales, account management, and project management. He has experience in urban planning and community development with the Urban Farming Planning Initiative in Detroit, Mich. and the Make It Right Foundation, New Orleans, La. He holds a bachelor's of arts degree in international relations from Grand Valley State University and master's of urban planning from Wayne State University.
LiveRoof will exhibit at CONSTRUCT 2011, part of the Construction Specifications Institute (CSI) 55th Annual Convention, which will be held in Chicago on September 14-16, 2011 at McCormick Place, Lakeside Center. LiveRoof will be at booth #1140.
About LiveRoof®, LLC
LiveRoof, LLC (http://www.liveroof.com) is the horticultural science company that developed the LiveRoof® Hybrid System: the only green roof solution installed as a naturally functioning ecosystem with thriving, fully mature plants. Combining the best elements of proven green roof technologies, LiveRoof establishes a seamless vegetative surface rooted in a continuous layer of soil. This design maximizes environmental benefits, energy savings and rooftop aesthetics. Regional growers in its national network adapt LiveRoof plants for local conditions and customize plant selection for every project. LiveRoof's natural function and natural beauty offer the highest level of green roof performance at the lowest level of acquisition-installation-maturation-maintenance costs. The proof is on the roof — showcased in LiveRoof projects that stand out as signature elements on commercial, public, university and school buildings in more than two dozen states and Canada.
###