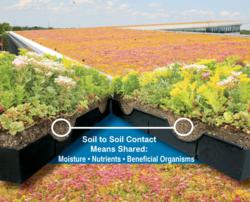 LiveRoof is the only green roof solution installed as a naturally functioning ecosystem with thriving, fully mature plants.
Spring Lake, MI (PRWEB) May 03, 2011
LiveRoof®, LLC, the preeminent horticultural science company in the green roof industry, announced its selection of Paul D. Spirou, LEED AP as its regional sales representative in Florida for the LiveRoof® Hybrid Green Roof System. The most technologically advanced and horticulturally refined green roof solution, the LiveRoof® Hybrid Green Roof System is the only green roof installed with full-grown, mature plants thriving in a sustainable ecosystem.
"Our sales process is technical and consultative. That's why our process for recruiting and evaluating sales representatives is so rigorous," said Dave MacKenzie, horticulturalist and president, LiveRoof, LLC. "We are confident that with his background in construction and knowledge of green building Paul will be a first-rate resource for our customers."
An accredited Green Roof Professional (GRP), Paul D. Spirou, LEED AP has nine years of proven experience as a project manager and quality control manager in the construction industry, including positions with Opus South Contractors, Tampa, Fla. and The Haskell Company, Jacksonville, Fla. Spirou holds a bachelor's of science degree in building construction management from the University of North Florida and earned his master's of business administration at the University of Miami. He is currently pursuing a graduate certificate in sustainable construction from the University of Florida.
"The Florida green roof market is taking off as municipalities come to recognize green roof benefits, such as stormwater retention and urban heat island effect mitigation," said Amber Poncé, business development manager, LiveRoof, LLC. "That's why we're working with Paul. That's why we have new opportunities for Florida nurserymen to grow the LiveRoof system."
About LiveRoof®, LLC
LiveRoof, LLC (http://www.liveroof.com) is the horticultural science company that developed the LiveRoof® Hybrid System: the only green roof solution installed as a naturally functioning ecosystem with thriving, fully mature plants. Combining the best elements of proven green roof technologies, LiveRoof establishes a seamless vegetative surface rooted in a continuous layer of soil. This design maximizes environmental benefits, energy savings and rooftop aesthetics. Regional growers in its national network adapt LiveRoof plants for local conditions and customize plant selection for every project. LiveRoof's natural function and natural beauty offer the highest level of green roof performance at the lowest level of acquisition-installation-maturation-maintenance costs. The proof is on the roof — showcased in LiveRoof projects that stand out as signature elements on commercial, public, university and school buildings in more than two dozen states and Canada.
# # #