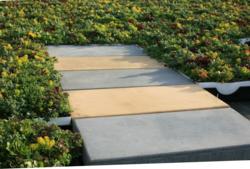 There is a growing demand for walkways and patios as green roof amenities. So architects, green roof designers and contractors asked if we could develop pavers as an accessory for the LiveRoof system
(PRWEB) March 24, 2011
Spring Lake, MI LiveRoof®, LLC, the horticultural experts in the green roof industry, announced the introduction of RoofStone™, roof pavers for the LiveRoof® Hybrid Green Roof System. The LiveRoof system is the most technologically advanced and horticulturally refined green roof solution. RoofStone is an accessory for walkways and patios integrated into LiveRoof installations.
"There is a growing demand for walkways and patios as green roof amenities. So architects, green roof designers and contractors asked if we could develop pavers as an accessory for the LiveRoof system," said Dave MacKenzie, horticulturalist and president of LiveRoof, LLC. "We engineered RoofStone to function as integrated component in LiveRoof applications."
"We see more and more green roof designs that incorporate pathways and seating areas. RoofStone provides a solution that's practical and harmonizes with the green roof aesthetics of LiveRoof installations," said Ron Strasko, owner of Creek Hill Nursery, Leola, Penn. Creek Hill Nursery (which specializes in herbaceous perennials, ornamental grasses and deciduous woody plants) is a licensed distributor in the LiveRoof national network of regional growers and horticultural experts.
RoofStone pavers measure one foot wide x two feet long x four inches tall to match the dimensions of LiveRoof Standard modules and six inches tall for LiveRoof Deep modules. RoofStone pavers feature built-in bases with water channels, so no separate pedestal system is required. In addition, RoofStone pavers fit right up against LiveRoof modules, so no special edging is required. The bases also include convenient handgrips. LiveRoof manufactures the RoofStone base with 100 percent recycled, post-industrial polypropylene.
RoofStone is available in six versatile colors: Sage, Light Reflective, Mocha, Charcoal, Beach Sand, and Red Brick. The RoofStone surface is concrete with recycled content varying by color. The top edges of the pavers are beveled to prevent chipping and form a water-conducting groove between the pavers.
RoofStone pavers are available from members of LiveRoof's national network of certified regional growers. The product carries a ten-year limited warranty.
LiveRoof is exhibiting at RCI's 26th International Convention & Trade Show, April 8-10, 2011, Peppermill Resort Spa Casino, Reno, Nev. LiveRoof will be at booth #224. The company is also exhibiting at the School & College Building Expo, April 12-13, 2011, Chicago Navy Pier, Chicago, Ill. LiveRoof will be at booth #314. RoofStone pavers will be on display at both shows.
About LiveRoof®, LLC
LiveRoof, LLC (http://www.liveroof.com) is the horticultural science company that developed the LiveRoof® Hybrid System: the only green roof solution installed as a naturally functioning ecosystem with thriving, fully mature plants. Combining the best elements of proven green roof technologies, LiveRoof establishes a seamless vegetative surface rooted in a continuous layer of soil. This design maximizes environmental benefits, energy savings and rooftop aesthetics. Regional growers in its national network adapt LiveRoof plants for local conditions and customize plant selection for every project. LiveRoof's natural function and natural beauty offer the highest level of green roof performance at the lowest level of acquisition-installation-maturation-maintenance costs. The proof is on the roof -- showcased in LiveRoof projects that stand out as signature elements on commercial, public, university and school buildings in more than two dozen states and Canada.
###