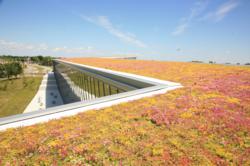 LiveRoof is the ideal choice for reliable results, vigorous growth, and easy maintenance
Spring Lake, Mich. and Denver, Colo. (PRWEB) August 30, 2011
LiveRoof®, LLC, the preeminent horticultural science company atop the green roof industry, announced the appointment of Rocky Mountain Green Roofs, Inc. as LiveRoof's newest regional grower and distributor for the LiveRoof® Hybrid Green Roof System in Colorado.
"Rocky Mountain Green Roofs is a top-notch addition to LiveRoof's national network of licensed regional growers. They meet our high standards for excellence in horticultural science and customer service," said Amber Poncé, business development manager, LiveRoof, LLC. "Owner Kory Craft has more than a decade of experience working with species both native and adapted to local Colorado environments. To fulfill each customer's specific requirements, he will personally recommend and select the ideal plant palettes for each LiveRoof installation."
"LiveRoof puts the 'green' in green roofs. Only LiveRoof integrates the soil across the rooftop to establish a real ecosystem," said Kory Craft, president, Rocky Mountain Green Roofs. Inc. "For the varied and distinct microclimates of Colorado, and the extremes in our weather, LiveRoof is the ideal choice for reliable results, vigorous growth, and easy maintenance."
Designed for immediate success and lasting sustainability, the LiveRoof® Hybrid Green Roof System is delivered to project sites with modules full of plants that are already full-grown and thriving. With the industry's most technologically advanced and horticulturally refined modules, LiveRoof is the only modular green roof that functions as a natural ecosystem on the rooftop. LiveRoof maintains a network of licensed regional growers across the U.S. and Canada so that green roof plants are locally selected and grown with local horticultural expertise and experience for every LiveRoof project.
About Rocky Mountain Green Roofs, Inc.
As a LiveRoof® licensed regional grower, Rocky Mountain Green Roofs is committed to providing unsurpassed service to green roof customers in Colorado. Kory Craft, president, is a native Coloradan and earned a bachelor's of arts degree in landscape architecture at Colorado State University. Rocky Mountain Green Roofs adapts and grows green roof plants for LiveRoof® Hybrid Green Roof System installations in all regions of the state. For more information, visit http://www.rockymountaingreenroofs.com.
About LiveRoof®, LLC
LiveRoof, LLC (http://www.liveroof.com) is the horticultural science company that developed the LiveRoof® Hybrid System: the only green roof solution installed as a naturally functioning ecosystem with thriving, fully mature plants. Combining the best elements of proven green roof technologies, LiveRoof establishes a seamless vegetative surface rooted in a continuous layer of soil. This design maximizes environmental benefits, energy savings and rooftop aesthetics. Regional growers in its national network adapt LiveRoof plants for local conditions and customize plant selection for every project. LiveRoof's natural function and natural beauty offer the highest level of green roof performance at the lowest level of acquisition-installation-maturation-maintenance costs. The proof is on the roof — showcased in LiveRoof projects that stand out as signature elements on commercial, public, university and school buildings in more than two dozen states and Canada.
###