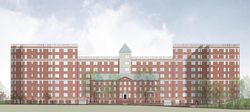 Bronx, NY (PRWEB) May 28, 2009
Serviam Gardens -- an 8 story 240-unit affordable Senior housing and mixed-use project by OCV Architects -- will recycle, reuse and redevelop 9 acres of Mount Saint Ursula's campus in the Bronx. The project also includes adaptive reuse and restoration of an exiting Georgian style convent on the property. The development will generate revenue benefitting the Church, the religious community and the Catholic Girl's School of the Ursuline Mission. The 2-phase plan will also renovate, reuse and enlarge an Historic convent by converting it to housing and adding new construction.
Sponsored by the Enterprise Foundation, the design features of Serviam Gardens adhere to the strict standards of Enterprises' Green Communities Initiative. Such features include a Green roof, a rain water recycling system, energy efficient lighting and cooling, and a super-insulated building envelope. The Enterprise Foundation provides over $180 million annually to develop affordable housing grants through their Rose Fellowship.
Fordham Bedford Housing Corporation will lease the land as part of their initiative to create more affordable housing in New York City. While building efficiently is challenging, (with scarce land resources and increasing demand), OCV Architects continues to partner with city agencies and non-profits to bring solutions to the affordable housing battle, making a better New York for the diverse city population.
Jack Coogan, partner at OCV Architects, heads up the project. Serviam Gardens is just one of many Green supportive housing projects in the architects' portfolio and on the boards at his bustling firm. For Coogan, Green design features are part-n-parcel of smart design, benefitting residents, the environment and the bottom line. Green architecture cuts costs because Green buildings use less.
In addition to senior apartments, the mixed-use site will feature communal spaces for recreation, on-site social services, a library, parking, and child-care facilities. The plans also include surrounding gardens, which will serve to minimize the impact upon the Mt. Saint Ursuline School campus as well as benefit the residents.
http://www.enterprisecommunity.org/programs/green_communities
Fordham Bedford Housing Corporation
The Natural Resources Defense Council
###