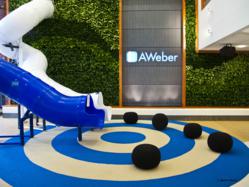 It only took one photo to convince us. After seeing how the Green Wall provides such a great blend of art and nature, we were confident it'd be a great addition to the AWeber office
Chalfont, PA (PRWEB) January 31, 2013
GSky Plant Systems, Inc., a leading provider of vertical Green Walls in North America and now the Middle East, unveiled a full-blooming 348-square-foot Versa Wall™ in AWeber Communications' new home located in Chalfont, Pennsylvania.
Founded in 1998, the fast-growing AWeber provides web-based email marketing software to over 100,000 small businesses, entrepreneurs and bloggers around the world. The company's new headquarters raises the bar for design innovation, and is an embodiment of the unique AWeber culture. The idea of the Green Wall was introduced early on in the planning process to visually complement the new 70,000 square foot office, and quickly evolved into a major design element and focal point to orient the interior space. Above all, the space is designed to facilitate collaboration, fun, and community.
"It only took one photo to convince us. After seeing how the Green Wall provides such a great blend of art and nature, we were confident it'd be a great addition to the AWeber office, staying true to our core values and leaving as little environmental footprint as possible," explained Sean Cohen, AWeber's Chief Operating Officer.
Upon entering the new office building, visitors are immediately greeted by two giant sliding boards descending from the second floor to the middle of the atrium. Next to the slides is a beautiful, large Green Wall with a falling waterfall that bears resemblance to nature's finest landscapes. In addition to its visual appeal, the building's connection to nature helps improve the team's general wellbeing by providing stress relief, improved air quality, and a sense of revitalization. With 90 percent of the team's time spent indoors, the Green Wall acts as a natural breathing air filtering system, removing dust and toxins while increasing energy-rich oxygen.
"The end result speaks for itself. For me though, the best part was the simplicity of the system. The system was less complicated than most, in the end the wall is more dense and beautiful than I originally expected," said David Schmauk, Project Architect, Wulff Architects, Inc.
GSky Versa Wall™ has a recirculating irrigation system that is 100% water efficient and self-contained, making the system suitable for any interior wall without the worry of spillage. The Versa Wall™ is naturally beautiful, eco-friendly, customizable, durable and economical—offering flexible installation options and a variety of plant selections.
The Versa Wall™ welcoming centerpiece has completely transformed the space by introducing green life to the interior, adding a touch of softness and liveliness that can be seen from each level. The combination of the waterfall and luscious Green Wall create a calming sanctuary center for everyone to enjoy. The Versa Wall™ has become the most photographed feature in AWeber's office, and will continue to be a conversation piece throughout AWeber's continued growth.
About GSky Plant Systems, Inc.
Founded in 2004, GSky Plant Systems, Inc. is a leading provider of vertical Green Walls in North America and the Middle East. The business was founded based on the explosive growth of green technology, including Green Wall and Roof Systems in Asia. GSky currently offers three Green Wall Systems, the Pro Wall™, Versa Wall™ and the Basic Wall™. Each system is unique in terms of design flexibility, installation location versatility, plant selection variety, desired size, cost, coverage time-line, and system components. GSky also offers a suite of services including maintenance, remote monitoring, and consulting as full-service contracts or à la carte. GSky strives to make plant systems more accessible and functional in urban environments while having a net positive impact on the environment. For more information visit us at http://www.gsky.com
About AWeber
AWeber, headquartered in suburban Philadelphia, helps over 100,000 businesses, entrepreneurs and bloggers increase sales and profits through its suite of web-based email marketing software. The privately held company was founded in 1998. For more information, visit aweber.com, subscribe to the AWeber blog, or follow on Twitter and Facebook.