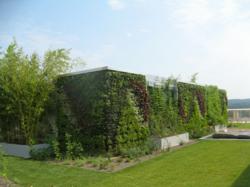 Middletown, CT (PRWEB) April 02, 2013
Community Health Center, Inc. (CHC) built a world-class primary integrated healthcare system committed to caring for uninsured and underinsured populations in the state of Connecticut. In their commitment to improving patient outcomes and building healthy communities, they selected Robert Olson + Associates Architects and GSky Plant Systems, Inc., a leading provider of vertical Green Walls to incorporate four Pro Walls as the focal point to the 12,400 square foot roof garden. The roof garden provides a series of unique outdoor spaces for relaxation, meeting, retreat and meditation while framing views of the Connecticut River Valley landscape and community landmarks.
Community Health Center, Inc.'s roof garden was awarded the Connecticut ASLA 2012 Jury's Award of Excellence in December 2012. The CTASLA award statement reads, "This award is for outstanding advancement of the landscape architectural profession which exemplifies the stewardship ethic upon which the profession was founded." GSky is very proud to have been part of the contribution of the roof garden's Green Walls.
As part of the center's green initiative, a green roof garden was designed featuring a pollinator perennial garden, community focused vegetable and fruit gardens, along with four GSky Green Walls. In addition to the gardens, the roof also employs a renewable solar hot water energy system and has a high performance roof system that reduces the heat island effect. Heat Islands in cities result from concentrated heat absorbed by dark colored building roofs and pavements, which is then radiated into the surrounding environment. Green Walls plantings, in conjunction with green roof planting and high albedo roof waterproofing membrane, can help to reduce this effect through the plantings' evapotranspiration process, shading roof surfaces, and reducing air condition demand. The Health Center building was designed to complement the historic architecture of Main Street and to carry on the renewal of the city's North End.
Green infrastructures are becoming increasingly important in healthcare facilities as they help restore our connection to nature, which can in turn assist with patient recovery process. Dr. Timothy Kearny, Director of Behavioral Health Care, Community Health Center states " a year later, we have data to support improvement in adolescent clients who do not traditionally do well in a seated environment when working with therapists thriving with the ability to walk the perimeter of the roof garden."
The roof garden is a rich visual and physical environment created by the Green Walls, bamboo groves, and climbing vines forming a continuous double helix DNA strand pattern on each of the four Green Walls. The DNA strand symbolizes the basis of our health and biology, and the message is expressed by the Green Walls.
GSky's Pro Wall can turn a creative vision into a reality, only limited by the imagination allowing the utilization of a variety of plant species to highlight color and texture, including the ability to accommodate twelve plants per square foot. The structural growth is designed to provide balanced air to moisture to solids ratio so that roots can develop uninhibited. As a result the Green Wall is weather-resistant and able to withstand the rigors of a fluctuating outdoor environment.
"The Owner's comprehensive vision for a twenty-first century healthcare facility has resulted in this great project, that has not only positively impacted the revitalization of North Main Street and adjacent neighborhoods, but has actively engaged community groups through collaboration and maintenance of the roof garden" –Robert Olson + Associates Architects.
About GSky Plant Systems, Inc.
Founded in 2004, GSky Plant Systems, Inc. is a leading provider of vertical Green Walls in North America and the Middle East. The business was founded based on the explosive growth of green technology, including Green Wall and Roof Systems in Asia. GSky currently offers three Green Wall Systems, the Pro Wall, Versa Wall and the Basic Wall. Each system is unique in terms of design flexibility, installation location versatility, plant selection variety, desired size, cost, coverage time-line, and system components. GSky also offers a suite of services including maintenance, remote monitoring, and consulting as full-service contracts or à la carte. GSky strives to make plant systems more accessible and functional in urban environments while having a net positive impact on the environment. For more information visit us at http://www.gsky.com