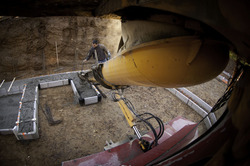 I would use fly ash in my home without a second thought
West Chester, PA (Vocus) October 26, 2010
60 Bragg Hill, a contemporary green technology restorative effort located in Chester County Pennsylvania, announces the use of fly ash as a concrete additive. The use of fly ash in concrete will help reduce the impacts of the concrete manufacturing and will divert a significant amount of fly ash waste from landfill. This innovative use of fly ash is also anticipated to provide less of an environmental impact than the more commonly used portland cement. The goal of this project is to build a green and sustainable home with the added benefit of reducing environmental impacts.
Fly ash has been used for years as an ingredient for building materials. This beneficial use of waste is a green and sustainable practice. Fly ash, a waste by-product of coal-fired power plants, can be re purposed as an additive in concrete, improving its structural properties. It replaces the need for portland cement which is one of the most energy intensive, greenhouse gas producing processes man has ever created. The Environmental Protection Agency (EPA) has encouraged the beneficial use of fly ash in lieu of disposal of this waste product as part of its resource conservation programs.
There is a debate regarding the safety of fly ash following the 2008 collapse of an earthen dam in Tennessee that released billions of gallons of fly ash sludge into the Emory River. Since fly ash could contain heavy metals, including mercury and other toxins, this incident brought the environmental problems with fly ash into the national spotlight. The EPA is currently developing regulations around the storage and management of fly ash.
After much debate and analysis surrounding the controversy of fly ash, the development team of 60 Bragg Hill, the Chester County Pennsylvania green home, decided to use fly ash as a concrete additive. In conclusion the team discovered the benefits outweigh the potential risks.
During the analysis there were many questions including: whether harmful metals can leach through the walls and whether Fly Ash will harm the home's occupants and require remediation in future years To answer these questions we looked to our Sustainability and green building expert, Tad Radzinski. Mr. Radzinski is the president of Sustainable Solutions Corporation a green building and sustainability consulting firm. Tad and his group have designed, coordinated and engineered the solar, geothermal, rain water collection and other integrated systems that define 60 Bragg Hill as a sustainable green home.
'We evaluated European studies of fly ash which has been used as an additive to concrete for years,' said Radzinski. 'Based on this analysis, we determined that fly ash if properly encapsulated in concrete does not pose a risk to the building occupants or builders. We also reviewed the materials safety and chemical analysis reports from the concrete supplier for 60 Bragg Hill.'
This was a critical decision for the team. Because manufacturing portland cement has significant environmental impacts and 60 Bragg Hill will be built with Integrated Concrete Forms (ICFs), the project will use more concrete than most residential homes. "I would use fly ash in my home without a second thought," Radzinski added.
While we wait for the EPA to find a regulation solution for Fly Ash, builders are encouraged to work with contractors, concrete suppliers and green building consultants in an effort to certify that Fly Ash has a safe audit trail. For more information please visit 60BraggHill.com
###