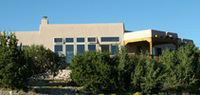 With 33 years of experience in sustainable homes and communities Alan Hoffman provides up to date information on energy efficient healthy homes available in America today. Learn how to buy or build a Zero Energy Home at a price that will surprise you.
Santa Fe, NM (PRWEB) November 1, 2010
With 33 years of experience in environmental homes and communities Alan Hoffman director of Natural Homes, is expanding the services offered by this Green marketing group within Prudential Santa Fe Real Estate. Natural Homes is offering an up to date view of the new Green lifestyle and what "Green really means."
The term "Green Home" is often misused in this evolving real estate market and many buyers are not sure what Green really means. To provide a baseline understanding, Natural Homes has launched a new website, NewVillage.com where the public can learn what Green homes really are. It covers the issues of energy efficiency, healthy home requirements, efficient lighting and appliances, New Urban Design and how a Green home is rated and certified. Visit NewVillage.com and gain insight into Passive Solar designs, LEED certified buildings, sustainable communities and Green retrofits. To tell the difference between true Green and the deceptive practice of "Green Washing" go to NewVillage.com and read "What Green Really means."
The real estate market in Santa Fe New Mexico has fared relatively well in this down turn due to moderate inflation over the last 20 years and pioneering sustainable innovations. In this evolving market, that is beginning to value energy efficiency, Natural Homes explains how to build a Zero Energy Home at a surprising price. They can also show home buyers how an existing house performs, how to pay a reasonable price for that house and how to make Green improvements. Their experience can help buyers get the deal closed in this challenging real estate economy.
Alan Hoffman explains "Our goal is to help you buy a home that is within your means, more sustainable and can provide the financial security of reduced energy costs into the future". For Green Buyer/Broker Services in Northern New Mexico call Alan Hoffman with Natural Homes at 505-316-0449 today and start down the road to a healthy, energy efficient home.
Prudential Santa Fe Real Estate 505-988-3700
# # #