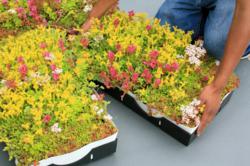 Our green roof customers understand the advantages LiveRoof offers as the system that establishes a green roof as a naturally functioning ecosystem
Spring Lake, Mich. and Riner, Va. (PRWEB) October 20, 2011
LiveRoof®, LLC, the top horticultural science company in the green roof industry, and Riverbend Nursery, Inc., a wholesale container nursery in LiveRoof's national network of licensed regional growers, announced that the LiveRoof® Hybrid Green Roof System has been chosen for five new green roof projects in North Carolina. The new LiveRoof installations include:
Winston-Salem Forsyth County Schools, Career Tech Center, 3,000 square feet;
Walkertown Middle/High School, Walkertown, N.C., 3,200 square feet;
University of North Carolina, Pembroke, N.C., 6,660 square feet;
Buffaloe Road Aquatic Center, Raleigh, N.C., 7,510 square feet; and
City of Greensboro, Transit Authority Maintenance/Operations Facility and Administrative Offices, Greensboro, N.C., 16,700 square feet.
"North Carolina is one of our fast-growing markets as more organizations come to recognize the valuable benefits of vegetated roofs," said Janie Schepker, Riverbend's LiveRoof area manager for North Carolina. "Effective storm water management, reduced cooling costs in summer, and longer service life for structural roof components are among the most significant benefits driving growing demand for green roofs in the region."
"Our green roof customers understand the advantages LiveRoof offers because it is the system that establishes a green roof as a naturally functioning ecosystem," said Jim Snyder, co-owner and president, Riverbend Nursery, Inc. "A healthy environment for plants means a green roof that requires very little maintenance."
On the day of installation, the LiveRoof® Hybrid Green Roof System is delivered to project sites with modules full of regionally adapted and locally grown plants that are mature, thriving, and ready for the rigors of the rooftop. LiveRoof has designed the green roof industry's most sophisticated and horticulturally refined modules. Only LiveRoof modules are engineered to connect the soil between and above all modules across the entire rooftop to create a cohesive ecosystem. The natural function of a unified ecosystem provides immediate beauty, reliable results, sustainable growth, and trouble-free maintenance.
"Understanding local climates and plant biology is vital for selecting the optimal plants for any green roof project," said Dave Mackenzie, horticulturalist and president, LiveRoof, LLC. "That's why LiveRoof invites select local wholesale nurseries like Riverbend into our exclusive LiveRoof national network of regional growers."
Riverbend Nursery, Inc.
Situated on over 100 acres in Riner, Va. in the beautiful Blue Ridge Mountains, Riverbend Nursery is a progressive container grower of quality perennials, herbs, groundcovers, and ornamental grasses. A wholesale-only grower, Riverbend sells to independent garden centers, landscapers, and distributors in the Mid-Atlantic and Southeastern United States. Riverbend grows more than three million containers annually with over 1,200 varieties, produced in both heated and unheated greenhouses. The majority are propagated at the nursery facility from seed, cuttings or divisions. As a LiveRoof® licensed regional grower, Riverbend is committed to providing unsurpassed service to green roof customers in the District of Columbia, North Carolina, Virginia and parts of both Maryland and West Virginia. More information is available at http://www.riverbendnursery.com.
LiveRoof®, LLC
LiveRoof, LLC (http://www.liveroof.com) is the horticultural science company that developed the LiveRoof® Hybrid System: the only green roof solution installed as a naturally functioning ecosystem with thriving, fully mature plants. Combining the best elements of proven green roof technologies, LiveRoof establishes a seamless vegetative surface rooted in a continuous layer of soil. This design maximizes environmental benefits, energy savings and rooftop aesthetics. Regional growers in its national network adapt LiveRoof plants for local conditions and customize plant selection for every project. LiveRoof's natural function and natural beauty offer the highest level of green roof performance at the lowest level of acquisition-installation-maturation-maintenance costs. The proof is on the roof — showcased in LiveRoof projects that stand out as signature elements on commercial, public, university and school buildings in more than two dozen states and Canada.
###