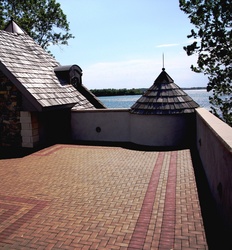 When it comes to our commitment to green building, VAST is serious about walking the walk not just talking the talk
Minneapolis, MN (PRWEB) July 22, 2009
VAST Enterprises, LLC announced that Andy Vander Woude, the company's chief executive officer, has achieved LEED Professional Accreditation. VAST Enterprises is a material science research and manufacturing company. VAST produces green building products with its patented technology that engineers recycled rubber and plastics into an environmentally friendly material: composite masonry. LEED Professional Accreditation distinguishes construction industry professionals who have demonstrated in-depth knowledge of green building principles and practices and expertise in the LEED certification process.
"When it comes to our commitment to green building, VAST is serious about walking the walk not just talking the talk," said Andy Vander Woude, chief executive officer, VAST Enterprises, LLC. "That's why LEED Professional Accreditation is important to me. It will help me guide VAST product development and marketing in accordance with the fundamentals of LEED."
VAST manufactures all VAST products with its composite material engineered from up to 95 percent recycled automobile tires and gallon-size plastic containers. The VAST scientific breakthrough: the world's first composite material consisting almost entirely of recycled materials that provides the structural strength, durability and pleasing appearance essential for landscape and hardscape applications. VAST products include VAST Composite Landscape Pavers, VAST Permeable Composite Pavers for stormwater management and VAST Composite Deck Pavers (an innovative product that brings the style and look of pavers up on decks).
All VAST composite masonry products are cradle-to-cradle green. The manufacturing process uses recycled materials, emits minimal greenhouse gases, generates no volatile organic compounds, yields zero scrap, and produces products that are 100 percent recyclable. In 2008, installations of VAST Composite Pavers kept a total of 1.2 million pounds of rubber and plastic from spending the next million years in U.S. landfills.
LEED is an internationally recognized green building certification system, providing third-party verification that a building or community was designed and built using strategies aimed at improving performance across multiple metrics: energy savings, water efficiency, CO2 emissions reduction, improved indoor environmental quality, and stewardship of resources and sensitivity to their impacts. Developed by the U.S. Green Building Council (USGBC), LEED provides building owners and operators a concise framework for identifying and implementing practical and measurable green building design, construction, operations and maintenance solutions.
VAST Videos:
Want to learn more about VAST Composite Pavers? Check out the VAST installation and training videos.
About VAST Enterprises, LLC:
VAST applies its patented technology to transform recycled materials into a new resource for green building: composite masonry. VAST composite products -- including landscape pavers, deck pavers and brick wall fascia -- offer an engineered alternative to both segmented concrete and clay. VAST meets the most demanding requirements for aesthetics, durability, sustainability and installation efficiency. Available in standard and permeable versions for stormwater management, VAST pavers can contribute to more LEED® credits than any other paver. Today, every 5,000-square foot landscape application keeps 2,500 scrap automobile tires and 75,000 gallon-size plastic containers out of U.S. landfills. Tomorrow? The Future is VAST. Learn more at vastpavers.com. Then call (612) 234-8958.
###