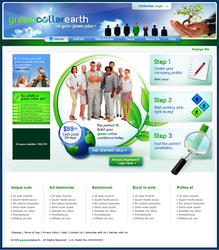 "This is a great site for creating the revolution for greening the workplace," says Gregor Barnum, Director of Higher Consciousness at Seventh Generation in Burlington, VT
New York, NY (PRWEB) April 13, 2010
Green Collar Earth LLC announces the launch of greencollarearth.com, a job search, career, and recruitment website devoted specifically to green-collar employment. This website provides a valuable resource for job seekers, green companies, and advertisers to connect with each other and enhance the growth of a green economy.
"I created Green Collar Earth to support job seekers and green companies who are focused on creating and sustaining healthy environments," says Karen McCulloch, founder and CEO of Green Collar Earth LLC. "We understand that growing a green-collar economy is going to take a broad number of factors and committed participants. That is why 10 percent of our profits go to both nonprofits and innovative green businesses whose primary mission is to move us toward a low carbon and environmentally sustainable country."
Green Collar Earth posts employment opportunities only from companies whose openings fit the United Nations Environmental Program definition of a green job (those that help protect ecosystems and biodiversity, use natural resources efficiently, and reduce waste) and is also participating with the U.S. Bureau of Labor statistics to define and capture data for this growing sector. The company uses 100% renewable wind energy for its power source, is an accredited Green Power Partner with the Environmental Protection Agency, and incorporates sustainability practices into every decision.
"We are a green company, and we want to be the hiring solution for green companies" McCulloch says.
Companies such as Seventh Generation, Pangea Organics, and the Sierra Club are already on board. With approximately 6.5 million Americans currently looking for work, greencollarearth.com provides effective searching tools for both employers and job seekers. Each job is posted on its own page, and companies can modify their profiles, update job postings, filter résumés, and easily respond to applicants using e-mail templates.
"Our price point is very attractive both for smaller companies and for larger employers," says McCulloch. Advertisers have the opportunity to reach a rapidly growing group of influencers via e-mail, display, and sponsorship opportunities.
Those looking for employment will find easy access to available green jobs across the country, sophisticated search engines to focus on specific criteria (location, category, title, company), and the ability to post résumés and cover letters. Job seekers can also keep track of the jobs they've applied to and receive daily RSS feeds to view the latest available jobs. Other resources include a SkillsBuilder section and a Newsblog featuring key contributors at green companies and organizations such as Seventh Generation, Green for All, Natural Resources Defense Council (NRDC), and Worldchanging.com. "This is a great site for creating the revolution for greening the workplace," says Gregor Barnum, Director of Higher Consciousness at Seventh Generation in Burlington, VT, and blogger for greencollarearth.com.
Green Collar Earth CEO and Founder Karen McCulloch is a lifelong environmentalist who first became interested in green-collar jobs when she was working on Senator John Kerry's presidential campaign. She has a B.A. in Peace & Conflict Studies from the University of Waterloo and a law degree from the University of Western Ontario. Karen was also a NAFTA-Lex Fellow at American University in Washington, DC, where she spent time studying and writing about the impacts of NAFTA's environmental and labor side agreements. You can follow her on twitter @mygreenguru
# # #