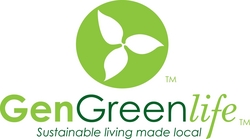 After we surpassed the 25,000 listings mark, I knew that we had achieved something remarkable
Fort Collins, CO (PRWEB) August 26, 2008
GenGreen Life, the online community that makes local sustainable living easy for conscious consumers everywhere, marks its one year anniversary by boasting the largest database of sustainable living resources, larger than any other website online.  From neighborhood organic restaurants to local recycling centers, non-toxic dry cleaners to green pet stores, the best eco friendly hiking trails and green jobs to green events, GenGreen Life has over 25,000 listings readily accessible in all 50 states and over 350 cities across the country.
The localization of green content is enhanced through their GEO IP application, which will soon integrate Google Maps for real-time mapping - meaning GenGreen Life will find its users wherever they are and show them the way.  Users won't have to increase the size of their carbon footprint searching for green services - all the information will be available anywhere there is internet access - and soon on the iPhone.
With the recent explosion of green businesses, products and news, GenGreen Life reins in information in an organized way to make green living more than good intentions for locals and tourists alike.  With the largest directory of green resources anywhere, GenGreen Life delivers individualized and localized content, giving each user the most geographically appropriate results for their queries. 
An example of localization at work - GenGreen has created a special direct portal to their content for Democratic National Convention visitors, and a similar portal will come for the upcoming Republican National Convention in Minnesota. DNC attendees visiting Denver this week will have a quick and easy resource for finding organic and green restaurants, organic grocers, farmers markets and community gardens. They will also find bike rentals and repair shops, public transit options and carpooling groups, as well as green business services listings, such as eco office supplies.
"After we surpassed the 25,000 listings mark, I knew that we had achieved something remarkable," said Founder and CEO Charisse McAuliffe. "It is a direct reflection of the population and their willingness to embrace the ideals of sustainability and localization. This is good news for people and even better news for the planet."
Celebrating its one year anniversary, what began as a non-profit organization with the website GenGreen.org and the mission to make green living easier, has expanded into an easily accessible, localized and rapidly growing database of green businesses, resources and community known as GenGreenLife.com.
GenGreen Life offers users such information as:

Over 15,000 recycling facilities, alternative transportation options, and cooperatives
The biggest nationwide green events calendar available anywhere
Directory of more than 9,000 eco-friendly businesses with interactive map
The nation's largest green job board featuring both employment and volunteer opportunities
A series of notable localized items such as best regional hiking trails
Educational classes, articles, tips, news, information and resources
A community of like-minded individuals
Moreover, GenGreen Life provides visibility for nonprofit environmental organizations and supports local green vendors by helping them reach their targeted consumer. In support of the GenGreen mission to make local sustainable living resources available to everyone, their Application Programming Interface will deliver GenGreenLife.com localized content within multiple websites and online platforms.  GenGreen is in the process of partnering with several third party host partners for their information to expand their reach. Soon, users will be able to access this content through their Facebook or MySpace profiles and even their iPhone - without opening another Web browser.
Despite all of the recent accomplishments of GenGreen they are continuing to grow beyond localization into further customization of their content.  Soon, their content delivery algorithm will evolve to deliver personalized content based on the tagged interests of individual users. 
To experience GenGreen and start living sustainably, please visit GenGreenlife.
###