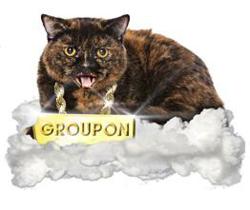 Despite the impressive growth we are skeptical that the company is worth today as much as the proposed IPO range of $15-$25 billion. Our blended valuation analysis (based on four separate analyses) puts the company at $11.1 billion as of March 2011.
New York, NY (Vocus/PRWEB) March 25, 2011
GreenCrest Capital today released a first-of-its kind, in-depth research and valuation report on private E-Commerce firm Groupon Inc. We estimate that Groupon will book $1.4bn in 2011 revenue and according to our four-way analyses we value the company at $11.1bn.
Having met personally with many individuals who work at the company, with its partners and customers, as well as with competitors, GreenCrest's analysts has assembled a compendium of knowledge about Groupon and the nascent daily deals/social commerce space that is unavailable anywhere else.
Key Points From the 50 Page Report:

Groupon has effectively created a new category of online marketing at the intersection of local online advertising and social commerce. The potential size of the opportunity that Groupon has tapped into is made evident by the rapid proliferation of "copycats" and by the ramp rate of Groupon's revenue to date.
Groupon has grown revenues at a remarkable rate from its launch in late 2008 until now, with monthly revenue of $0.1mn in Jan-2009, $10mn in Jan-2010, and $105mn in Feb-2011. The +2,000% revenue growth rate posted in 2010 ($760mn over 2009 revenues of $33mn) is one of the highest growth rates ever posted by any company at multi-million dollar scale.
The company turned profitable approximately six months after its launch, and today enjoys healthy margins in the range of 35-40%. This is remarkable performance for a company that has been in existence less than three years and is already passing a $1bn per year revenue run rate.
Groupon offers local business partners something they can't find anywhere else: exposure to thousands of new customers, with zero upfront cost. Over 60% of merchants who run promotions with Groupon report that they would run another promotion in the future, given the opportunity.
But the threat posed by competition is increasing rapidly - the major knock on Groupon's proposed valuations is that the company lacks proprietary technology and is extremely vulnerable to increased competition from below (startups on the desktop and mobile platforms), from above (Google and Facebook rapidly closing in on Groupon's turf), and from all sides (adjacent services like Travelzoo and OpenTable increasingly featuring "daily deals").
A Brave New Mobile World – The majority of future upside to revenue in the local deals space hinges on the adoption of location-aware services ("LAS"). Groupon must rapidly innovate in this area to compete effectively with LAS features that Web heavyweights Google and Facebook have already pioneered. We expect that competition in the mobile, location-aware commerce space will be the most exciting and highly-monetized source of Web innovation over the next few years.
Relationships Matter - We believe that Starbucks CEO Howard Schultz joining Groupon's board and making an investment in the company, and what appears to be an increasingly cozy relationship between Groupon and Apple could provide an inkling as to directions in which Groupon may take mobile commerce innovation in the future.
Assigning the Right Value - The valuation continues to grow apace with revenues and cash flows - Last December, many market commentators remarked that Groupon was probably foolish to turn down a $6bn buyout offer from Google. As of 3/17/11, the WSJ reports that Groupon is entertaining the possibility of a late-2011 IPO in the valuation range of $15-25bn. Despite the impressive growth we are skeptical that the company is worth today as much as the proposed IPO range. Our blended valuation analysis (based on four separate analyses) puts the company at $11.1bn as of March 2011.
About GreenCrest Capital
GreenCrest Capital provides clients with timely and innovative research into the companies and sectors we cover. To that end we have established a team of experienced analysts, researchers, economists and industry veterans that focus exclusively on private companies with a proven track record of success. Producing quality research on a private company is uniquely challenging. Our team's collaborative examination employs forensic analysis combining primary research as well as secondary information sources. Our team of analysts and industry experts leverage years of experience working for bulge bracket firms. Our team utilizes fundamental analysis to deliver proprietary, innovative, insightful and thought-provoking reports.
About the Analysts
A.B. Mendez, CFA, has over 11 years of equity research and consulting experience with private and public companies in the Internet Media, E-Commerce and software-as-a-service (SAAS) sectors. Mr. Mendez was an Internet equity research analyst at Bank of America, Friedman Billings Ramsey (FBR), and Thomas Weisel Partners. Follow AB on twitter: http://twitter.com/abmendez or SeekingAlpha: http://seekingalpha.com/author/a-b-mendez
Nitsan Hargil, CFA, has more than 15 years of experience as an analyst in the technology and financial services industries. Mr. Hargil's Wall Street career includes research analyst positions at Lehman Brothers, Kaufman Brothers, and Friedman Billings Ramsey (FBR). Mr. Hargil was recognized as a top analyst in The Wall Street Journal "Best On The Street" awards for best stock picking in software. Mr. Hargil frequently appeared on CNBC, CNN, CNNfn, Bloomberg TV, and has been quoted in The Wall Street Journal, Investor's Business Daily, The New York Times, The Washington Post, Fortune, and Business Week.
To inquire about our research services, please call us at: (212) 607-5423 or email info(at)greencrestcapital(dot)com.
For media inquiries, please contact Max Wolff at (203) 640-2336 or maxw(at)greencrestcapital(dot)com.
GreenCrest Capital Management LLC
100 Wall Street, 8th Floor
New York, NY 10005
# # #