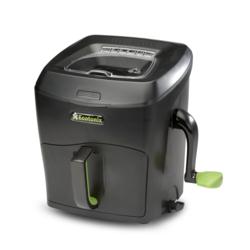 Food scraps are a valuable resource and most can be recycled. Green Cycler makes recycling through composting fast and easy.
Denver, CO (PRWEB) April 19, 2013
Launching in time for Earth Day 2013, GREEN CYCLER joins the worldwide call to action on the problem of food waste. Invented to improve food scrap recovery while significantly improving home composting results, GREEN CYCLER's are now available to consumers nationwide.
GREEN CYCLER is the first-ever food scrap shredder and recycling system--a new class of kitchen appliance that brings long-needed innovation to organic waste recovery. GREEN CYCLER is designed to match upscale kitchen aesthetics while solving problems that have prevented widespread adoption of food scrap recycling. By shredding organic material to the ideal size for composting, GREEN CYCLER makes food scrap rescue easy while speeding composting by 10 times or more.
According to the U.S. EPA, composting is one of the most vital strategies for curbing greenhouse gas emissions. With an estimated 97 percent of organic waste being sent to landfills, changing waste disposal habits can simply but significantly impact the worldwide landfill, water-quality and climate change crisis.
According to GREEN CYCLER inventor Gail Loos, "Food scrap recycling is the next critical step toward improving the nation's recycling rate. While most people are now geared toward recycling plastic, glass and paper, most households could take a significant earth-friendly step forward by preventing wasted food and recycling their inedible scraps, rinds and peels. Food scraps are a valuable resource and most can be composted or repurposed directly into valuable soil amendments. If we all stopped wasting food, it would have an impact on greenhouse gas emissions equivalent to taking one in four cars off the road."
"The Face of Climate Change" is the focal point of Earth Day 2013. Food waste, from production through disposal, is a significant source of water and fossil fuels consumption. Methane and CO2 emissions from food decomposing in landfills are a significant contributor to global climate change.
"Our goal is to provide an appliance that will change how consumers manage food scraps and turn them into recyclable assets instead of trash," said Loos. "GREEN CYCLER hopes to help people meet their waste-reduction pledges on Earth Day 2013 and beyond."