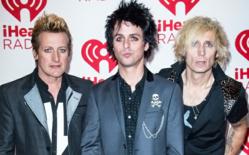 We totally back whatever's necessary for Billie Joe's recovery
Melbourne, Victoria (PRWEB) November 06, 2012
The Rolling Stone reported last week that Metallica had to quickly fill in for Green Day, as they withdrew from the Voodoo Music Experience in New Orleans due to singer Billie Joe Armstrong checking-in to rehab. Word spread quickly about the singer's substance abuse and the subsequent tour cancellation, causing a slump in Green Day gift sales at Planet 13, who usually see the band in their five best sellers for Christmas.
Planet 13 owner Shawn Scott says, "Fans have realized his going to rehab is actually a good thing, their sales are picking up again," the renowned band tee site now expects to see Green Day in their top ten gift purchases for the holidays.
Green Day fans were sadly disappointed to hear all their scheduled concerts for 2012 were cancelled, and the early 2013 shows would be postponed. Their dismay was a result of the band's singer Billie Joe Armstrong going into rehab to get treatment for substance abuse.
"We totally back whatever's necessary for Billie Joe's recovery," says Shawn Scott, ex-Voodoo Lovecats singer and owner of webstore Planet 13, "So, we were a bit bummed out when we saw their sales take a nose-dive after all the media attention surrounding his decision. It showed the fans were devastated."
Green Day withdrew from the Voodoo Music Experience in New Orleans, leaving Metallica scrambling to cover their slot. "It was really cool to hear James Hetfield touch on why they were performing," comments Shawn on Metallica's singer pre-show chat, "by him saying 'Hopefully he [Billie Joe Armstrong] gets it together, because the world needs them' I think has helped fans realize the sudden cancellation was truly for the best."
Over the past week, Green Day merch sales have started to recover at Planet 13, who say the band are usually amongst their top five gift items for Christmas. "At this rate, I totally expect to see Green Day at least make it into our top ten gifts for the holidays."
"And now with Green Day releasing the last instalment of their album trilogy ¡Tré! on December 11th instead of January 15th," continues Shawn, "that'll help shift their sales position up our charts."
To find out more about Green Day gifts and availability at Planet 13, click here.
A bit about Planet 13™
Planet 13™ was conceived and created in 2004 by Shawn Scott, front man of the once-popular Melbourne-based glam/punk band Voodoo Lovecats. His online store Planet 13 features an extensive range of fully-licensed entertainment and band merchandise.