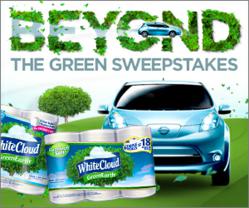 Bentonville, AR (PRWEB) April 02, 2012
In honor of Earth Day, White Cloud® GreenEarth™ is teaming up with Nissan® to bring eco-friendly savings to their fans. Through the month of April, White Cloud will be celebrating Mother Nature by allowing Facebook followers to enter the "Beyond the Green" GreenEarth Sweepstakes once per day for a shot at a brand new Nissan LEAF™. White Cloud will also be offering its followers the opportunity to save $0.75 on White Cloud GreenEarth products. To redeem the offer, fans simply need to click the "Sweepstakes" button on the White Cloud Facebook page, fill out the sweepstakes entry form and print the coupon.
Bring the coupon* to participating Walmart stores to receive $0.75 off a White Cloud GreenEarth product – White Cloud's way of thanking its friends for stepping up to protect the Earth.
For decades, Kruger has produced quality paper products at an affordable price, and now White Cloud is showing that protecting the environment doesn't mean a thinner wallet. GreenEarth provides the quality and value many have come to love from the White Cloud brand, and it's also made from 100% post-consumer recycled fiber. Additionally, GreenEarth proudly maintains a Forest Stewardship Council certification. FSC® is an independent organization established to promote the responsible management of the world's forests.
The GreenEarth coupon can be redeemed at participating Walmart locations in the continental U.S. For information on participating stores, please consult our store locator. Coupon must be redeemed on or before May 27, 2012.
*Coupon valid for $0.75 off of White Cloud GreenEarth products. Not valid in combination with any other promotion, coupon or discount. One coupon per party. Unique barcode, one time use only. Coupon may not be copied, duplicated or reproduced. No cash value.
For more information on White Cloud products, please visit the website at http://www.mywhitecloud.com