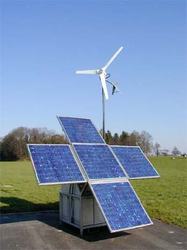 We are looking to expand our geographical reach throughout the US, Canada, Central America, and South America. Gateway to Green is a great opportunity for us to engage in discussions with potential distributors in order to promote the expansion process
Miami, FL (PRWEB) March 27, 2009
Participating in Gateway to Green is a prime opportunity for green companies to expose their goals and objectives to the public, Green Eco Sys will be sure to generate awareness about their company's mission. Whether it is generating green collar jobs, stimulating the energy sector, or promoting environmental awareness, Green Eco Sys will use Gateway to Green as a platform to support their purpose.
"We are looking to expand our geographical reach throughout the US, Canada, Central America, and South America. Gateway to Green is a great opportunity for us to engage in discussions with potential distributors in order to promote the expansion process," said Dirk Saecker, Chief Executive Officer of Green Eco Sys.
About Gateway to Green
Gateway to Green is set to bring hundreds of building professionals together to connect with sustainable building products and services, green industry experts, and influential leaders in the community. With the goal of leading Miami into a revolutionary green building movement, the event will host over 50 exhibitors, educational presentations and business relations opportunities. For more information contact Vanessa Thomas at (305) 416-1546 or [email protected]
About Green Eco Sys
Green Eco Sys provides the Americas with the prospect of advancing the surging renewable energy sector and expanding the green movement through the manifestation of various eco-friendly products. Their innovative influence derives from the European-based partners, such as Genesis Invest (http://www.genesis-invest.com; a publicly traded company on the Deutsche Boerse Frankfurt - Stock Exchange Symbol: GN0), that supply Green Eco Sys with state-of-the-art technology and sound engineering strategies. Green Eco Sys offers a line of environmentally-sound products that generate abundant and inexhaustible sources of energy, create cleaner sources of water, and cultivate purer soils for planting and farming.
For more information on Green Eco Sys, distribution, or products - TASSA, Mobile Cube, Grünbeck, TerraPot, and TerraFit - please contact Alejandro Fernandez, Sales and Marketing, at 1-866-632-2434 or http://www.greenecosys.com.
###