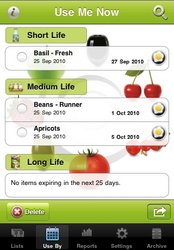 Most people can avoid wasting food on missing 'Use by' dates or by overbuying if there was an easy way for them to manage their shopping.
(PRWEB) November 12, 2010
Just released for Apple's iPhone & iPad is Wise Banyan Tree's Green Egg Shopper app. The app brings together technology with the need to reduce food waste and save the environment. Green Egg Shopper is a shopping list app that seamlessly combines managing and organising shopping in a unique way that helps reduce food waste and makes this task a lot easier.
Every year millions of tons of food, that could have been eaten, goes to landfills. This not only costs households billions of dollars, but also adds to our environmental woes by adding greenhouse gases. The extent of this waste does not transpire easily. A recent publication by 'New Scientist' states, MORE energy is wasted in the perfectly edible food discarded by people in the US each year than is extracted annually from the oil and gas reserves off the nation's coastlines.
The app is designed to let users create shopping lists, and set 'Use by' dates as the items in the list are picked off the shelf (or later at user's convenience). The lists can be archived. They retain what and how much was bought. This is a handy reference for users while estimating how much to buy next time and helps avoid overbuying. For instance users can look up the list from last year's Thanksgiving or Christmas to plan for this year. The lists can be very easily copied and modified to be reused. Users can also easily compare prices at which items were bought previously.
Most people can avoid wasting food on missing 'Use by' dates or by overbuying if there was an easy way for them to manage their shopping and to track expiry of things sitting at the back in refrigerators or cupboards. This app aims to provide an easy way to do so.
A list of all items near expiry is available on just a tap on the screen. The list categorises items in short, medium and long life based on customisable user settings. Users can also customise how many days before expiry do they want items to appear in the 'Use Me Now' list. Checking this list before planning meals should be a good idea!
For those who have an eye for how much they are spending and on what, it is easier than ever to get information via this app. Users no longer need to maintain tedious notes or collect store receipts. Reports are available by monthly expense for previous 12 months. Reports are also available on expense by category and by shops.
Users can download and try a 'Lite' version of the app which is available completely free. The paid version of the app is priced at only £2.39/US$3.99 and pays for itself very soon. A box of fruits or vegetables saved alone could pay for the app.
"Most of us are guilty of food waste and it happens at every stage of the food chain. Some of it is inevitable but we can try to minimise the waste. With this app we hope to help people do just that." says Prac, co-founder of Wise Banyan Tree.
Please visit http://www.GreenEggShopper.com to find out more about the app and to read more on why food waste is a problem that needs immediate action.
Users can download the App here
http://itunes.apple.com/us/app/green-egg-shopper-shopping/id393794174?mt=8
Or try the 'Lite' version here
http://itunes.apple.com/us/app/green-egg-shopper-lite-shopping/id395121731?mt=8
###