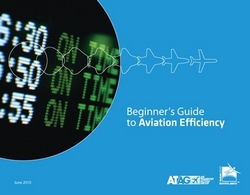 "The progress on achieving greener flights has been extraordinary," Paul Steele of the cross-industry association Air Transport Action Group
Geneva, Switzerland (PRWEB) July 14, 2010
Today's travellers book their flight online, check-in from their mobile and board aircraft without a second thought. While a plane today looks much like the first jet aircraft did in 1960, in fact the latest aircraft are around 80% more fuel efficient per passenger, per kilometre travelled.
"The progress on achieving greener flights has been extraordinary," says Paul Steele of the cross-industry association Air Transport Action Group. "For aviation, efficiency is at the very heart of what we do on a daily basis. Fuel is expensive and heavy to carry, so airlines have long focused efforts to reduce the amount of fuel they use and aircraft makers spend a majority of their research development budgets on reducing fuel use."
"The difference today," Steele continues, "is that the reason behind such measures has traditionally been simply economic. But as pressure is placed on all industries to reduce their carbon emissions, it is a nice parallel that reducing fuel burn has an absolute positive correlation with reduced emissions."
The greatest efficiency progress has traditionally come from new technology - the aircraft and the engines that power them. Through this, significant steps forward have been made every decade.
As Steele points out, "The technology being used today is amazing. Most passengers don't think about it, but looking at the engines on a modern aircraft you have some of the safest, most efficient, high-technology machines on earth...but built to withstand daily use, huge differences in temperature, lightening strikes, hail storms and the massive forces in play during flight."
Technology may be one key to reducing emissions, but the aviation industry says it is looking at a 'suite' of measures to improve the efficiency of flights. Improvements in the air traffic control system through projects underway like NextGen in the United States and SESAR in Europe will bring additional benefits. Operational efficiencies can be gained through the use of new flying techniques and by reducing weight on board an aircraft.
The industry is also very actively progressing its development of sustainable, second-generation biofuels for aviation which could eventually reduce overall emissions by up to 80%.
To make the complexities of aviation efficiency measures more easily understood, The Air Transport Action Group has published a Beginner's Guide to Aviation Efficiency. This guide explores the many different projects underway across the world to reduce emissions - by aircraft manufacturers, engine makers, airports, airlines and, importantly, air traffic control providers.
It also looks at some of the technologies and operational practices in the pipeline that can deliver further performance improvements and gives a longer-term view on the future of flight.
The Beginner's Guide to Aviation Efficiency outlines how the aviation industry will use all available technologies, operational procedures and infrastructure improvements to create a greener future for flight. The targets agreed upon by the industry include:
1. From now until 2020: 1.5% efficiency improvement per year
2. From 2020: Capping net carbon emissions growth from aviation
3. By 2050: halving net carbon emissions based on 2005 levels
Steele concludes: "As the Beginner's Guide points out, (available at http://www.enviro.aero/aviationefficiency ) we will be using all available technologies, operational procedures and infrastructure improvements to make our future even better. We will cap our net carbon emissions from 2020 and by 2050 our emissions will be half of what they were in 2005. That's extraordinary and we are the only industry to have such globally ambitious targets."
###