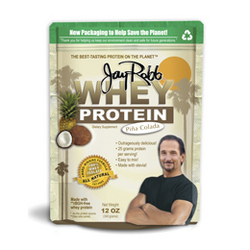 Each American creates approximately one ton of garbage every year. Reducing the amount of plastic used to package products is a huge step forward in cutting down the amount of garbage produced by Americans
San Diego, CA (PRWEB) October 2, 2008
Jay Robb Enterprises Inc., producer of cutting-edge nutritional supplements and books sold worldwide, announces the release of new "GREENER" recyclable foil-bag packaging for its line of protein powders. This new packaging is being produced with approximately 84% less plastic than the current containers and will save on fuel costs due to decreased shipping weights.
Reduce, Reuse, and Recycle
"We look forward to offering the new recyclable packaging in an attempt to help consumers reduce waste, reuse materials, and recycle--which are three of the most powerful ways individuals, households, and businesses can protect and save our environment," said Jay Robb, CEO of Jay Robb Enterprises Inc.
How Greener Packaging Can Help Save the Planet:

Helps Save Natural Resources: Reusing discarded products and using recycled materials to make new products reduces the use of virgin materials, which often involves harvesting trees and mining the earth. Even better, "source reducing" waste--or avoiding the generation of discards in the first place-- saves the most resources.
Helps Prevent Environmental Problems that Come from Landfills: Few people want a landfill in their neighborhood. Unfortunately, we will need landfills as long as we choose to dispose of waste. Landfills are a poor use of land and a potential source of groundwater contamination, releasing methane and other gases.
Helps Save Energy: Enormous amounts of energy are required to make products and materials worldwide. Tremendous energy savings come from using recycled--rather than virgin--materials in manufacturing.
Helps Prevent Pollution: Nearly all manufacturing processes use water and release wastewater and air emissions into the environment. Reducing and reusing products cut down on manufacturing pollution, just as the use of recycled materials prevent pollution in industrial processes.
Help Us Save the Planet
"Each American creates approximately one ton of garbage every year. Reducing the amount of plastic used to package products is a huge step forward in cutting down the amount of garbage produced by Americans," states Jay Robb, CEO of Jay Robb Enterprises Inc. Although 90 percent of plastic products are reusable and recyclable, Americans throw away 25 million plastic bottles every hour. According to the 2007 Harris Poll, 57 percent of Americans do their share to recycle plastic. This is encouraging news; however, the rest of the recyclable plastics that are discarded (instead of being recycled) continue to fill up our nation's landfills, pollute our beaches, and disgrace our national parks.
"With our new environmentally friendlier packaging, and by encouraging our customers to reuse and recycle as often as possible, the Jay Robb Corporation is doing its part to save the planet," declares CEO, Jay Robb.
10 More Ways Jay Robb Is Helping Save the Environment
The Jay Robb Corporation:
1.Will soon expand its offering of new "greener" packaging to include a wide variety of products.
2.Uses biodegradable cornstarch-based packaging peanuts and eco-friendly shipping materials.
3.Uses recycled copier paper.
4.Provides recycling containers within its corporate offices.
5.Uses energy-saving light bulbs and light fixtures throughout the corporate office building.
6.Reuses shredded paper as packing material for shipping.
7.Does not use Styrofoam in the employee kitchen/break area.
8.Uses biodegradable forks and cups made from cornstarch or potato starch.
9.Uses an energy-saving, eco-friendly air conditioning and heating system in the Jay Robb corporate offices and warehouse.
10.Requires that trees trimmed on the corporate properties are mulched and recycled.
About Jay Robb and Jay Robb Enterprises Inc.
Founded in 1988, Jay Robb Enterprises Inc. is a San Diego based multi-million dollar nutrition company that produces cutting-edge books and nutritional products which are sold worldwide. Jay Robb is a clinical nutritionist, a feature columnist for Best Body and Natural Bodybuilding magazines, and the author of the best-selling book, the FRUIT FLUSH™ 3-Day Detox.
For more information, call toll-free 1.877.JAY.ROBB, or log onto http://www.jayrobb.com.
Media contact: Nancy Ferguson at 760.448.1606 or nancy@jayrobb.com
###