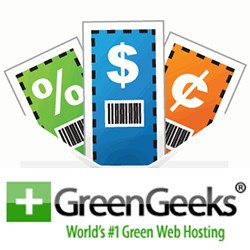 San Francisco, CA (PRWEB) January 10, 2014
WebHostingBing.com, an independent web hosting review and rating site, today introduced an exclusive GreenGeeks promotion with a coupon code bringing a 44% discount, which reduces the price of the green web hosting package down to $3.96/mo, along with a large number of free features that value hundreds of dollars.
As a leading provider of eco-friendly hosting services, GreenGeeks has been offering a shared package named EcoSite for thousands of individuals and online businesses requiring excellent reliability, and the company carries out large promotions and sales on occasion. The regular price of the package starts from $6.95/mo.
At present, new customers are able to get a 30% discount off the regular price by default, with which they are allowed to subscribe to the package at a price as low as $4.95/mo. However, with the availability of the coupon code "take20off", an additional 20% discount can be applied to the previously discounted price. The code is automatically activated for visitors signing up through this promotional link. No manual effort is required.
With the 20% discount, the effective price of EcoSite package is $3.96/mo, $5.56/mo and $6.36/mo for the 3/2/1 year(s)' subscription, instead of $4.95/mo, $6.95/mo, and $7.95/mo. Therefore, subscribers can save up to $107.64 for one term. Besides, for all of the 3 terms, there is no setup fee charged.
To ensure the convenience and security, the company gives support to both PayPal and credit cards, including Visa, Mastercard, American Express and Discover.
If there is any dissatisfaction with the service, GreenGeeks has a 30 day no-risk money-back guarantee, which allows customers to ask for a full refund in the first 30 calendar days for account cancellation or get a pro-rated refund after the 30-day time limit.
In addition, the company gives all customers completely free access to the following features and extras.
1) A domain name for the life of the hosting account, which saves more than $12 per year.
2) cPanel control panel integrated with Softaculous script installer.
3) A site builder with templates & courtesy nightly backup.
4) Search engine submission & online marketing package.
5) 24x7 North American technical support via phone, live chat & email.
For detailed information, follow this link to read the full review on GreenGeeks promotion and coupon code.
About WebHostingBing.com
As a professional web hosting review site, WebHotingBing.com has been a useful resource for bloggers, business owners and personal website owners who need affordable, reliable and fast services to gain optimized web presence.