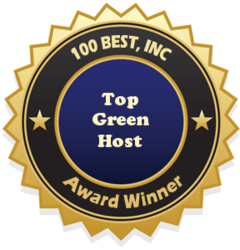 St. George, UT (Vocus/PRWEB) February 22, 2011
100 Best has named GreenGeeks the best green web hosting provider for 2011. When you hear the name GreenGeeks you know that these guys have some serious focus on green web hosting. But what does GreenGeeks do different than the other best web hosting providers that makes them the best green web hosting provider?
When you visit the GreenGeeks website you immediately feel the green web hosting vibes. From their ecosite phone number to the windmill images on the side, the GreenGeeks website lets you know that they are focused on providing the best green hosting services in the world. What do they do specifically that makes their web hosting green? Visiting the "How is GreenGeeks Green?" link on their website gives us a better idea.
GreenGeeks has a whole list of things they are doing to provide green web hosting. First they purchase wind energy credits in the amount of 3 times the amount of energy they are using for their servers. This allows people using GreenGeeks as their web hosting provider to say their website is 300% green. GreenGeeks even provides their clients with green web hosting banners that they can place on their site.
Another thing GreenGeeks does to provide the best green hosting service is regular server upgrades. This keeps their servers and equipment as energy efficient as possible. We also learned that even the employees working at the GreenGeeks office make a conscious effort daily to conserve energy. By powering down equipment not in use, turning the lights off when they leave a room, printing only essential documents, and taking turns bringing in home cooked meals to cut down on their use of takeout containers, GreenGeeks employees show their green web hosting spirit.
Not only does GreenGeeks use the best green hosting practices, but they provide all the best web hosting features to go with it. From unlimited free web space and free advertising credits to the best shopping cart software and free website templates, the GreenGeeks green web hosting plan provides everything you need to build your own personal or business website exactly the way you want it. GreenGeeks backs all their services with a 30-day money back guarantee and 24/7 technical support so you've got nothing to lose. 100 Best recommends you start your eco-friendly website today using the GreenGeeks green web hosting services.
About 100 Best Inc
100 Best Inc, headquartered in St. George, Utah started doing reviews of free web space services 10 years ago. 100 Best has since expanded their review services to include a wide variety of web hosting categories and ecommerce solutions.
# # #