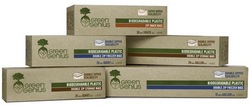 The new Green Genius biodegradable food bags are just as strong, and priced the same, as their conventional counterparts.
San Francisco, CA (PRWEB) July 13, 2010
Green Genius LLC, the San Francisco-based maker of biodegradable plastic trash bags, announced today it has launched the first line of food storage products proven to biodegrade under landfill conditions. Just like the company's trash bags, which are sold with the same strength and price as "normal" trash bags, these new food bags are priced competitively with their conventional counterparts and offer reliable, secure seals that perform just as well as the best in the industry.
"We launched our drawstring trash bags and tall kitchen bags as our first biodegradable plastic product because we knew we could match the price and performance of regular trash bags," said Sam Paul, Green Genius CEO. "What we didn't know was whether we could actually launch a food bag that offered equivalent food protection and closure quality as the leading brands. That was a much higher hurdle, frankly, but we feel we've achieved just that."
The new product line includes sandwich bags, snack bags, and freezer and storage bags – both in quart and gallon sizes. The freezer and food storage bags are available with either double zipper or slider seals. All Green Genius food bags are easy to open and easy to close and feature world-class closures that block out air to keep food extra fresh. "We also use a minimum of 15% recycled plastic in every bag – another industry first," adds Robert Eisenbach, Green Genius VP of Marketing.
Green Genius food bags (and trash bags) are available online at Amazon.com and Alice.com and have already started shipping to a handful of retailers across the country.
All Green Genius biodegradable plastic products utilize an additive called EcoPure™ made by Bio-Tec Environmental in Albuquerque, NM. EcoPure makes normal plastic biodegradable by bonding organic nutrients to the plastic's molecular structure. These nutrients attract microbes that consume the plastic and convert it into naturally occurring organic matter. Using ASTM D5511, the industry standard test method for determining biodegradability of plastic, Green Genius food bags are estimated to fully biodegrade within 2 to 15 years, depending on actual landfill conditions, vs. normal food bags, which will take hundreds of years to biodegrade – if ever.
About Green Genius
Green Genius is a San Francisco-based company that makes biodegradable plastic trash bags and food bags designed to biodegrade under landfill conditions (where 95%+ of trash bags end up). Born out of the environmental "aha" moment of CEO Sam Paul, Green Genius is devoted to reducing the amount of plastic accumulating in our environment. Green Genius biodegradable plastic products can be purchased at Whole Foods, QFC, ShopRite, Albertsons, Hannaford, Associated Foods, Hy-Vee, Raley's, and many other fine retailers nationwide, as well as online at Amazon.com and Alice.com.
Contact:
Emily Longway
Green Genius LLC
(888)338-3138, ext 3
media(at)thegreengenius(dot)com
Become a fan of Green Genius on Facebook: http://www.facebook.com/greengeniusfans
Follow Green Genius's biodegradable tweets at http://www.twitter.com/thegreengenius
###