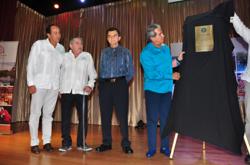 The objective of the first Forum of Environmental Expression was to be a platform to discuss the accomplishments of organizations that work at preserving the natural environment and conserving natural resources
Cancun, Quintana Roo (PRWEB) November 30, 2011
In celebration of World Travel Market Sustainable Travel Day (November 11, 2011) Hacienda Tres Ríos Resort, Spa & Nature Park Riviera Maya organized the first Forum of Environmental Expression, the objective being the exchange of experiences and initiatives to confront the challenges and opportunities that present themselves in relation to sustainable tourism development in the Mexican Caribbean.
The event, which brought together the media, investors, civil organizations and directors of groups focused on social responsibility, was also the setting of the unveiling of Hacienda Tres Ríos' 3rd consecutive Green Globe plaque which certifies them as a sustainable tourism development of world class excellence.
This certification represented a major accomplishment for the resort which is part of the Mexican tourism group Sunset World. This year Green Globe gave the resort a higher rating, last year's rating was 180 and this year's was 310 thanks to the efforts and commitment of those that make up the tourism company. This year's point rating is in the 96th percentile, one of the highest ranks in the world.
The objective of the first Forum of Environmental Expression was to be a platform to discuss the accomplishments of organizations that work at preserving the natural environment and conserving natural resources. Another objective was to share their new projects and initiatives for 2012.
Hosts for the event were Orlando Arroyo Marroquín, President of Sunset World Group; Jorge Pallas, Vice President of Operations of Sunset World; Gabriel Santoyo, Director of Sustainable Development of Tres Ríos; Germán Fayad, Director of Operations of Sunset World y Annie Arroyo, Brand and Communications Director of Sunset World Group.
Special guests included Biologist César Barrios, Director of Philanthropy of Amigos de Sian Ka'an; Biologist Carlos Segura Ponce de León, Operations Manager for Hoteles Sustentables MARTI; Miriam Tzeek Tuz, Coordinator of Tortugas Marinas Flora, Fauna y Cultura de México A.C. y Teresa Rojo Jiménez, Director of Sales for Ak Kuxtal A.C.
Each organization involved in the event expressed their dedication to improving and protecting the environment and driving more sustainable tourism in the Mexican Caribbean.
# # #