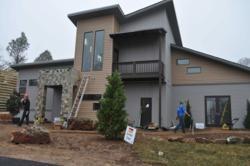 Our exclusive ENERGY STAR® collection allows families to build a truly energy-efficient home with cutting-edge building techniques and products to help them save money on heating and cooling costs and create a healthy home environment.
Bastrop County, TX (PRWEB) November 30, 2012
The Emmy award-winning reality program Extreme Makeover: Home Edition returns to ABC this holiday season with four special episodes, including the Bastrop County build featuring an innovative new green home designed through a collaboration of Extreme Makeover designers, EFC Custom Homes builders and a leading architect from The House Designers.
It's been 15 months since Central Texas was devastated by wildfires that took two lives, destroyed more than 1,600 homes and 34,000 acres. Many stories of bravery and courage arose from this disaster including the story of Hearts of the Pines volunteer firefighter Mizzy Zdroj, who was helping to battle the blaze while her own home was being destroyed.
Approximately 3,000 volunteers, under the leadership of EFC Custom Homes and the Extreme Makeover design team came together to build the Zdroj family a brand new energy efficient home in just seven days. Taped last December, this will be the final episode of Extreme Makeover, which was canceled earlier this year by ABC.
On December 3 at 8 p.m. EST the nation will have the opportunity to share in this magical moment when Extreme Makeover host Ty Pennington yells, "Move that bus!" to reveal the Zdroj's new custom home.
"It's really a good story and the family was truly surprised," said Austin-based architect Donovan Davis of The House Designers, who designed the custom home pro-bono. "We designed the home based on what we knew about their story and their personal tastes. The goal with this home was to have a lot of innovative products in it but nothing over-the-top. From a design standpoint, we wanted to create a home that had plenty of sustainable and green features so that they could easily maintain and afford it."
The new home is approximately 2,400 square feet and was built using the latest green building techniques and products including geothermal HVAC, solar energy panels, tankless water heating, low-flow toilets, ENERGY STAR® appliances, LED lighting, dimmer switches, and low VOC paints.
This home is very similar to the Greenview House Plan, an award-winning ENERGY STAR® plan drawn exclusively by Davis for The House Designers as part of their Annual ENERGY STAR® & The House Designers' Design Competition. You can view all house plans in this award-winning collection by clicking here.
For EFC Custom Homes it was the perfect opportunity to start the process of rebuilding and uniting the entire community of Bastrop County. "When Extreme Makeover contacted us about building a new home for a deserving family, we didn't give it a second thought," said EFC Custom Homes founder Eric Christophe, in a recent press release. "We saw it as an opportunity to start the process of renewing our community and rebuilding better than before. Now, nearly one year later, it's clear to us that our community is renewed and well into the rebuilding process. It's also clear to us that the Extreme Makeover build was the perfect kick-off to that effort."
Joining in to support families and individuals who have lost their homes due to natural disasters are The House Designers and their Housing Relief Program. "Our program was created to assist families and communities rebuild the neighborhoods left devastated by natural disasters by offering discounted construction drawings from our collection of over 6,000 house plans," said Tammy Crosby, Chief Operating Officer.
In an effort to help these families rebuild their lives and reduce their monthly home bills, The House Designers offers a collection of ENERGY STAR® and green house plans. "Our exclusive ENERGY STAR® collection allows families to build a truly energy-efficient home with cutting-edge building techniques and products to help them save money on heating and cooling costs and create a healthy home environment after surviving such a traumatic life experience," said Crosby.
You can view a behind-the-scenes video by LeBaron Productions called "Extreme Makeover: Behind the Scenes," which captured compelling footage of a community coming together to rebuild a new home for the Zdroj family just before Christmas. You can also look through thousands of great photographs of the entire build from EFC Custom Homes.
For more information on The House Designers' Housing Relief Program, please contact Christine Cooney at ccooney(at)thehousedesigners(dot)com or 866-214-2242 ext. 203.
ABOUT THE HOUSE DESIGNERS HOUSE PLANS: The House Designers are the leading residential architects and designers in the U.S., owned and operated directly by the designers who represent the majority of pre-drawn plans in America. The House Designers offers the best-selling, most popular construction-ready house plans in the country. Their clients have built homes in every state in the U.S. and in 56 countries around the globe. For more information, visit thehousedesigners.com or call 866-214-2242.