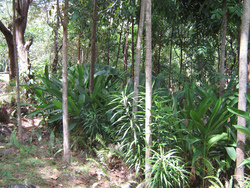 Plant for the Planet: The Billion Tree Campaign
Denver, CO (Vocus) February 25, 2010
Climate change is one of the most daunting threats facing our world today. Creative solutions will be the key to changing the tides of the biggest fight of humanity. To take action, green hosting service, Site5 has joined Mokugift's 1,000 Ways To Plant A Tree campaign and will plant a tree for every new hosting account created.
As of today, Site5 has proudly planted 3,228 trees with thousands of environmentally conscious customers. These trees will absorb an average total of 161,400 lbs of carbon per year.
"Tree-planting with new accounts is a natural extension of Site5's existing environmental philosophy. Site5's business was designed around a remote workforce which is the greenest possible option for a company. None of Site5's employees drive to work. Virtually all of Site5's operations is waste free, excluding the last few vendors and partners that haven't gone paperless yet." explained Ben Welch-Bolen, CEO of Site5.
The vast majority of the impact Site5 has on the environment is through the electricity our servers and related equipment use. Luckily for Site5, with today's energy prices, being green and being cost effective can go hand in hand. Site5 is constantly working to reduce costs and environmental impact by leveraging new technologies to lower power consumption, using natural DC cooling technology, and using virtualization software to scale efficiently.
Site5 takes a pragmatic approach of eliminating impact where it can and working with environmental organizations such as Mokugift to counter impact areas that are unavoidable. In celebration of the 1,000 Ways To Plant A Tree campaign, Site5 is offering a free 30 day trial. New customers can use the coupon code "FREETRIAL" at signup.
Mokugift created the 1,000 Ways To Plant A Tree campaign to enable innovative companies, like Site5, to invent news ways to plant a real tree as a gift for customers at $1 apiece. The goal is to plant 100,000 trees by July 29th 2010. These trees will absorb an average of 5 million pounds of CO2 per year.
Mokugift trees are planted by farmers practicing environmentally sustainable forestry and agricultural methods in tropical zones in Central America, Africa and Asia. The plantings not only restock, with native trees, existing forests that have been depleted, but also contribute to more diverse, productive and economically sustainable land-use systems. Business can join the 1,000 Ways To Plant A Tree campaign today at Mokugift. Individuals can become a fan of Mokugift on facebook to get updates on the newest ways to plant a tree.
An official partner of UNEP, Mokugift not only empowers corporations and individuals to participate in the Billion Tree Campaign, it also provides the tools to inspire others to participate. Tree planting is an easy first step towards more environmentally responsible choices, and Mokugift enables every company and individual concerned about climate change to make a difference and inspire others to do likewise. It is grass roots action like Site5's environmental programs that invigorate our planet and economy.
About Site5
Site5, founded in 1999, provides quality web hosting to individuals, small businesses, and enterprise clients. Our customer service team is 100% in house and we provide guarantees on our uptime and quality of support. Our current hosting philosophy is based on guaranteed performance. While other hosts may try to cram as many accounts as possible on shared servers, we have used our years of experience and the technical analysis performed by our technical gurus to determine exactly how many accounts we should be putting on any given server. In addition, we are continually upgrading our hardware platforms to be among the best in the industry.
About UNEP's Billion Tree Campaign
Launched in November 2006 by the United Nations Environment Programme (UNEP), with the objective of encouraging the planting of at least one billion trees worldwide each year, "Plant for the Planet: The Billion Tree Campaign" is now recognized as one of the UN's most successful environmental campaigns. To date, UNEP has tracked the planting of more than three billion trees in 166 countries. Now in its second stage, the campaign, which stresses the power of partnerships, has set a new goal of seven billion trees planted before the end of 2009—roughly one tree for every living person on the planet. Every tree counts, and UNEP counts every tree.
For more information on the UNEP's billion tree campaign, please visit http://www.unep.org/billiontreecampaign/
About Mokugift
A social venture focused on customer experience and tangible, positive benefit to the environment and society, Mokugift makes it easy and rewarding to plant trees, for $1 apiece, through online "gifting". Giving a Mokugift tree is similar to sending an e-card, and recipients can proudly display their trees online at Facebook, MySpace, Yahoo!, and 50 other popular Web sites.
An official partner of the United Nations Environment Programme's Billion Tree Campaign, Mokugift collaborates with award-winning nonprofit agroforestry organizations such as Trees For The Future and Sustainable Harvest International to plant trees in twelve countries: Belize, Honduras, Nicaragua, Panama, Cameroon, Ethiopia, Burundi, Senegal, Zambia, India, the Philippines and Haiti. Using environmentally sustainable methods, farmers in these countries plant Mokugift trees to restock existing forests and enable more diverse, productive and economically sustainable land-use systems.
For more information on Mokugift, please visit http://www.Mokugift.com
###