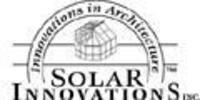 Myerstown, PA (PRWEB) October 27, 2008
Solar Innovations, Inc., a custom manufacturer of residential and commercial greenhouses; conservatories; sunrooms; folding, tilting, and sliding glass doors, walls, windows, and screens; announces the release of two new brochures: Greenhouse Environments™ and Complete Product Line.
The new Greenhouse Environments™ brochure provides our customers, dealers, and team members with exemplary Solar Innovations, Inc. greenhouse projects and information. This new, thirty-two page brochure provides examples of nearly all structure configurations, decorative accessories, and horticultural greenhouse accessories, which can be incorporated into any Solar Innovations, Inc. greenhouse structure.
Solar Innovations, Inc. provides customers with more than just the structural materials; Solar possesses the expertise and dedicated staff to properly design a greenhouse to meet any range of criteria. Solar Innovations™ offers greenhouses ranging in application from hobby and residential greenhouses to institutional and research greenhouses to estate and restoration greenhouses. Solar Innovations'™ extensive greenhouse accessory line can create a highly controlled atmosphere for research or convenience by incorporating an environmental control system to entirely automate the care of the greenhouse.
Simultaneously, Solar Innovations™ has released the Complete Product Line brochure. This new publication is the perfect choice for customers who are unfamiliar with the product offerings of Solar Innovations™ or for dealers to utilize during tradeshows as it provides photographs and general product information on each of the major categories offered: conservatories; skylights; greenhouses; pool and spa enclosures; folding, tilting, and sliding glass doors, windows, walls, and screens; and more. This sixteen page brochure will be distributed upon request to the dealer network, as well as to customers and architects who would like to update their materials and display the brochures at tradeshows.
Both of these brochures are available as downloadable PDFs from the company's website or can be requested via email or phone. Solar Innovations, Inc. ships their products worldwide to create the perfect environment.
Any Solar Innovations, Inc. contact who has received an architectural binder since April 2008 will receive an updated Greenhouse Environments™ brochure via the United States Postal Service during the week of October 13th. If you would like to receive an updated brochure, and have not already, please contact the marketing department at skylight@solarinnovations.com or call 800-618-0669.
# # #