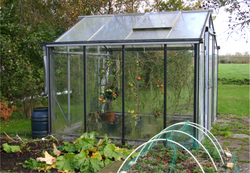 Building a greenhouse doesn't have to be difficult or expensive.
Preston, ID (PRWEB) October 1, 2010
Thomas Smith, Professional Horticulturist and owner of several popular gardening websites, announces his newest addition to the growing list of online resources. Build A Greenhouse Today, http://buildagreenhousetoday.com, offers tips for homeowners who want to build their own greenhouse but are not quite sure how to start.
Although the internet is populated with vast amounts of information on gardening, it's often hard to find a website that is geared directly to your area of interest. With this new resource gardeners looking for information on building a greenhouse, from the smallest mini version made from a milk jug to a larger permanent structure, will be delighted with the growing number of tips and comments from other gardeners.
"What we're trying to accomplish is the accumulation of a large amount of information for home gardeners in one easy to navigate website. The goal is to have the premier online resource for those interested in building their own greenhouse," said Smith. "Visitors are encouraged to leave comments and share their knowledge and tips on home greenhouse construction. We want to remind everyone that building a greenhouse doesn't have to be difficult or expensive"
Build A Greenhouse Today launched in September 2010 and is growing quickly as Smith and others add new resources. Visit the website today for more information.
###