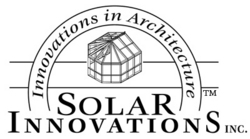 Solar Innovations'™ commercial greenhouses are available in limitless design formations
Myerstown, PA (PRWEB) July 7, 2008
Solar Innovations, Inc., a custom manufacturer of residential and commercial greenhouses, conservatories, sunrooms, folding and sliding glass doors, walls, windows, and screens, announces the launch of their commercial greenhouses webpage.
Solar Innovations'™ newly released commercial greenhouses webpage highlights various configuration and applications for incorporating a greenhouse into a commercial location. A Solar Innovations'™ greenhouse can draw the attention of customers and provide a unique aesthetic appeal to a traditional business setting.
Blending a greenhouse into a commercial setting, such as an office area can provide natural lighting and ventilation, contributing to lowered energy costs and encouraging green practices. As consumers become more adept to green practices, providing these types of locations will allow facilities to differentiate themselves from the competition. The thermally-enhanced aluminum frame system utilized in every Solar Innovations™ structure will create a weather buffer for main structures and an energy efficient environment while expanding the facilities view of the outdoors.
The natural environment of flowering plants, greens, and other vegetation creates a calm space within the building which can be used for lunches, as a waiting area for customers, or just as spot to escape the hectic office lifestyle.
Commercial greenhouse applications are growing in popularity and provide an onsite source for fresh fruit, vegetables, and herbs in dining experiences across the country. Having a greenhouse with readily available fresh produce allows restaurant owners to provide the highest level of quality and freshness in their market during the entire year. Both product and shipping costs within the industry have become increasingly expensive, especially when fruits and vegetables are not in season locally. Utilizing a Solar Innovations'™ commercial greenhouse can help to eliminate this problem. Growing fresh produce in a greenhouse designed specifically to meet your needs is not only cost efficient, but a unique dining experience for customers.
"Solar Innovations'™ commercial greenhouses are available in limitless design formations" including straight eave, curved eave, double pitch, lean-to, conservatory nose, and hip end structures. Isometrics of the greenhouse structure options are available on the newly launched commercial greenhouses webpage. Solar Innovations'™ design team will work with you to create an exceptional greenhouse for any commercial location.
Solar Innovations, Inc. offers seven standard aluminum frame finishes of Hartford Green, Black, Bronze, White, Sandstone, Natural Clay, and Mill Aluminum (unpainted) and two anodized frame finishes of Dark Bronze and Clear. Copper and Stainless Steel cladding options are also available for your commercial greenhouse; this array of color options indulges the customer's desire when creating a structure to complement their business environment.
Commercial greenhouses by Solar Innovations™ are versatile in design, allowing you to customize the ideal greenhouse for your business. For more information on Solar Innovations'™ products please contact the marketing department at skylight @ solarinnovations.com or call 800-618-0669.
###