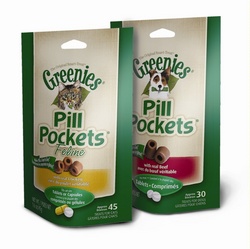 The good news is that it's progressive, so early detection and treatment by your veterinarian and good daily at-home care makes a big difference.
KANSAS CITY, Mo. (PRWEB) May 5, 2008
It's doubtful that we'll ever hear dogs commenting on their growing waistlines or cats reminding us to make an appointment with the veterinarian, but these thoughts raise a good point. Pets can't make these decisions for themselves, so they rely on their human partners to look out for their health and well-being. And preventive healthcare is just as important for our furry friends as it is for us.
We asked Dr. Marty Becker, veterinarian, well-known "spokesperson" for pets and co-author of Chicken Soup for the Pet Lover's Soul for pointers in ensuring a healthy lifestyle for pets. Here are four simple things that can make a big difference in the health of your pet.
1. Put the Treat Back in Treatment
A recent survey of 1,220 pet owners revealed that nearly three-quarters of them aren't always successful in giving medication to their pets. Seven percent admitted that their inability to medicate their pets led to an extended or ongoing health issue with their pets--almost five million U.S. dogs and cats.
Pets possess an acute sense of smell and can detect the ingredients in medication, which often sends them running. Cats are especially finicky about smells and tastes. They can pick up on the slightest residue of a medicine, even in your empty hand. This often creates problems for even the savviest pet owner when giving medication to pets.
"Pet owners understand that missing even one dose of medication affects their pet's health, and that causes them concern. They often resort to human foods such as peanut butter, cheese and hot dogs in an effort to get the pet to take the pill," said Dr. Becker. "Not only are human foods unhealthy for pets, they're not a reliable delivery method, as pets will often eat around medication disguised in human food, leaving the pill intact."
"Giving medication can be stressful for both the pet and the pet owner, even when you're successful in getting the medicine past the pet's teeth," said Dr. Becker. "Your veterinarian can recommend methods and products such as Greenies(R) Pill Pockets(R), treats that are pet-healthy, effective and put the 'treat' in treatment."
Greenies(R) Pill Pockets(R) treats are soft, edible treats for dogs and cats that have a hollow core. Pet owners place medication inside the treat, pinch it shut with the fingers that have not touched the medication and feed it to their pet. The beef, chicken and salmon flavored treats conceal the medication and provide a healthy alternative for Fido and FiFi.
2. Brush Up and Down and All Around
According to the American Veterinary Medical Association, about 85 percent of dogs and cats three years or older have some evidence of periodontal disease. Periodontal disease is one of the most common--if not the most common--medical issue affecting pets. It's much more than just "doggy breath." As with humans, periodontal disease has been implicated in heart, liver and kidney problems.
At-home prevention is as important as the treatment your pet receives in the clinic. While brushing your pet's teeth is the gold standard, other methods recommended by veterinarians such as Greenies(R) canine dental chews and Feline Greenies(R) treats, and special dental diets can help in the fight against periodontal disease. "Untreated periodontal disease can lead to tooth loss and worse," says Dr. Becker. "The good news is that it's progressive, so early detection and treatment by your veterinarian and good daily at-home care makes a big difference."
3. A Weighty Issue
"Obesity in pets causes a lot of the same problems that it does in people," said Dr. Becker. "An overweight pet is prone to a host of related problems including diabetes, mobility issues, breathing and heart problems. Overweight cats can even develop skin conditions from not being able to groom themselves properly. The lives of overweight pets are often uncomfortable and shorter."
The good news is that it's not that difficult to trim down pets. After all, they can't open the refrigerator on their own, nor can they grab the car keys for a fast-food run. What pets eat is totally dependent on what we give them. And our pets are always up for a brisk walk, a game of fetch or play with a toy. They love to move, especially if we're moving with them.
Individual pet dietary and exercise needs vary depending on different dog and cat breeds. Your veterinarian is the best resource for determining what is right for your pet.
4. Regular Tune Ups Keep Their Motors Purring
Visits to the veterinarian are always part of a healthy pet lifestyle, whether it's for an illness or a regular checkup. Just as with humans, preventive care is better than treating a disease that a pet has already developed. Veterinarians recommend twice-yearly wellness exams, so they can help pets avoid diseases or medical conditions that are preventable and often painful.
Why visit your veterinarian every six months?
-- Pets age more quickly than humans; at a rate up to 10 times that of human maturity.
-- Health problems are likely to develop more rapidly in pets.
-- Your veterinarian knows that pets are great at hiding their pain and compensating for illnesses, especially cats. You may not notice subtle changes in behavior, mobility or appetite that can indicate early stages of illness.
-- Most pets are entering their "senior years" by age seven. It's important that they be regularly examined for the development of age-related diseases like arthritis, diabetes, cancer and others.
Pets should also receive an annual test for heartworms and internal parasites, and be protected against external parasites such as fleas and ticks. Parasites can not only affect their health, but also may pose a risk to their owners. This transmission of disease from animals to humans is known as zoonosis; the best-known and scariest is perhaps rabies. The good news is that mandatory rabies vaccination programs have all but eliminated that risk from pets. It's easy to minimize the risks from other parasites, keeping your pet and your family healthier.
"Keeping your pet healthy is simple," says Dr. Becker. "Keep your pet current on all vaccinations and parasite preventives that your veterinarian recommends. Make sure they get regular checkups. Practice good oral hygiene. Keep pets lean and active. And make sure they get all the medicine when prescribed by the veterinarian."
For all the love, companionship and joy that pets bring to our lives, they rely on us to help them maintain a healthy lifestyle. These four simple things--and the care provided by your pet's second-best friend, the veterinarian--can help to ensure that you and your pet enjoy many happy years together.
S&M NuTec, "The Greenies Company," also invites pet owners to join them in helping keep shelter pets healthy until they have a new home.
In recognition of purchases of Greenies(R) Pill Pockets(R) treats during National Pet Week, May 4-10 and throughout the month of May, the company will donate up to 10,000 bags of Greenies(R) Pill Pockets(R) treats to animal shelters across the U.S.
See Dr. Marty Becker discuss how Greenies(R) Pill Pockets(R) offer a simple solution for giving pets medication at http://youtube.com/watch?v=snQhGUvYl6s.
About The Greenies Company
In 1998, S&M NuTec, the makers of Greenies(R) dental chews, revolutionized the dental chew category with its famous green, toothbrush-shaped pet dental chew. Today, Greenies(R) dental chews have become the global leader in pet dental chews. The Greenies brand has a longstanding commitment to improving the lives of pets and their owners. The brand is committed to the cause of dental care and believes the healthier a pet's teeth, the healthier the pet can be. S&M NuTec is a wholly owned subsidiary of Mars, Incorporated.
About Mars
Mars, Incorporated's roster of brands includes some of the world's leading names in pet food, confectionary, beverage, food and health food. A privately-held company, Mars, Incorporated operates in more than 65 countries. Headquartered in McLean, Virginia, Mars, Incorporated employs more than 7,000 associates in the United States and 39,000 associates worldwide with 39 manufacturing facilities nationally and more than 100 manufacturing facilities globally. The company owns some of the world's favorite brands including M&M'S(R) Brand, SNICKERS(R) Brand, UNCLE BEN'S(R) Brand, PEDIGREE(R) Brand Food For Dogs, WHISKAS(R) Brand Food For Cats, and GREENIES(R) Brand. Mars' pet brands are supported by The Waltham Centre for Pet Nutrition, the world's leading authority on pet care and nutrition. The company's global sales exceed $18 billion annually; the U.S. business has more than $5 billion in annual sales.