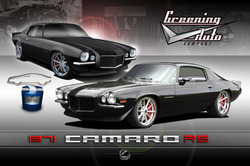 I grew up around General Motors cars and have always loved them
Huntington Beach, CA (PRWEB) January 23, 2009
KTC Media Group is proud to announce that client Greening Auto Company (GAC) was honored with General Motors' coveted "Best GM Vehicle" at the 2008 SEMA Show in Las Vegas, NV. KTC Media Group was proud to be tasked with the vehicle renderings for this project by GAC.
"I grew up around General Motors cars and have always loved them," stated builder Jesse Greening. "My goal with this car was to design it the way GM might possibly have done it as a concept car. I wanted to stay true to the original design while implementing some of the new technology that exists in the market. I didn't want to overdo it." Jesse continued, "I am beside myself over receiving the most prestigious award that GM gives at the SEMA Show…I don't know if it has sunk in yet! This is a huge honor and everyone at Greening Auto Company is proud. I am also thankful to KTC Media Group for doing such a terrific job with the vehicle renderings and keeping them true to the vision we had for the car." A video featuring Greening's award-winning Camaro at the 2008 SEMA Show is available at V8TVShow.net. If you would like to see GAC's Camaro in person, it will be on display at the 60th annual Grand National Roadster Show at the Pomona Fairplex in Pomona, CA January 23rd-25th, 2009.
"For several years now, Jesse has trusted us to create his renderings, including implementing the subtle design modifications that have made GAC a known name in the Hot Rod and Street Rod markets," commented Ross Berlanga, Creative Director for KTC Media Group. "It's always an honor when we are asked to help project car builders and companies realize their projects through vehicle renderings," Berlanga continued, "While some clients simply provide us with a vehicle type and give us carte blanche to create a design, others have a very precise concept in their head and want it to be realized exactly as they see it in their mind's eye. As with all of our client projects, we consider it a huge responsibility, and one that we are more than happy to undertake."
KTC Media Group--A History of Award-Winning Renderings
Over the last several years, KTC Media Group's vehicle renderings have received multiple awards across several vehicle and award categories. Some of the more recognizable project vehicles that KTC has rendered include: AEM's NHRA Pro RWD Drag Honda Civic and crew apparel (NHRA's Best Appearing Car & Crew Award, 2004 & 2005), AEM's Drift Honda S2000 (Sony Gran Turismo's Best Japanese and Best of Show Award, SEMA Show 2006), GReddy Performance Products Nissan 350Z (Best Japanese Award, SEMA Show 2007), KTC Media Group's Chrysler 300C (Best on Dunlop Tires, Wheel & Tire Fitment, SEMA Show 2006), Papadakis Racing's Drift Nissan 350Z (Formula Drift Champion, 2007 & 2008), Turbonetics 2007 Ford Mustang concept car (Ford Product Excellence Award, SEMA Show 2007), and Westnet's First-In Fire Station Alerting System's semi truck and trailer (Materials donated by 3M Corporation after viewing rendering). More KTC Vehicle Renderings are available by clicking the link.
About Greening Auto Company:
Jeff and Jesse Greening established Greening Auto Company (GAC) in 1999 in Cullman, Alabama. The father and son team produce 2 to 3 full builds a year with the help of their talented crew. GAC produces a line of accessories for the street-rodding market that include headlights, exhaust tips, and taillights. This year they have built on that foundation and introduced a line of custom wheels. Jesse has been recognized with several prestigious awards including the Goodguys Association Trendsetter Award as well as the 2000 Detroit Autorama Ridler Award.
Greening Auto Company
33020 AL HWY 91
Cullman, AL 35055
256-352-3133 Phone
Visit Greening Auto Company Website
About KTC Media Group:
KTC Media Group is a full-service boutique marketing, creative and production agency with over 50 combined years of experience in the automotive and technical products markets. The company designs print, online and television creative, websites, catalogs, packaging and promotional materials, apparel, large format graphics, trade show booths, vehicle wraps, photography, logo design and more. KTC Media Group's clients include companies who manufacture for the OE automotive, street performance, Motorsports, sport compact, off-road, hot rod, motorcycle and marine market segments, as well as non-automotive related fields. KTC prides itself on its ability to meet deadlines, deliver top-quality creative design and work within its clients' budgets. KTC Media Group was founded in 1999. KTC Media Group Website
###