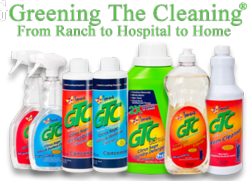 Over the years I have used every commercial brand on the market and some private brands, but your product is the greatest. On a scale of 1 to 10 I would give it a 10. Sally
New York, NY (PRWEB) May 08, 2012
GTC Greening the Cleaning is thrilled to announce that its new and improved line of cleaning products is now third-party tested and verified. An independent lab has certified that every single product is as green as its label indicates.
"This is big news as most green cleaning products on the market do not have their claims verified and tested by a third party. Here at GTC, we're proud to be continually raising the bar for green cleaning," said Deirdre Imus, founder and president of The Deirdre Imus Environmental Health Center. Deirdre developed the award winning GTC program and product line back in 2001 at the 4th largest hospital in the country – Hackensack University Medical Center. "Obtaining the coveted third-party verification was an important step and a priority for everyone at GTC, where healthy always comes first" she said.
Using the same non-toxic, plant-based, triclosan-free formula that's been keeping homes and hospitals clean for years, GTC has done everything to ensure customers have the most authentic green cleaning experience possible. Far too often, other brands of cleaning products falsely claim to be "green," or "all natural," a dangerous practice known as greenwashing. Third-party verification eliminates any doubt that Greening the Cleaning products are extremely green, and completely natural.
GTC takes very seriously its responsibility to provide the purest, healthiest, least toxic cleaning experience possible, and consumers should feel 100 percent confident that they are getting the green, all natural products they are looking for.
GTC's product line isn't the only thing that's new and improved: make sure to check out the redesigned website, http://www.greeningthecleaning.com, where visitors can find detailed ingredient lists for all GTC products; blogs about the latest green news; and information about the Imus Ranch for Kids with Cancer. GTC is effective enough for leading hospitals, safe enough for children's playrooms, and easy on the environment. For more information or to purchase GTC for your home or business, please visit GreeningtheCleaning.com, or call 1-888-281-7625.
About Greening the Cleaning
From Ranch to Hospital to Home
In 1998, Deirdre and Don Imus founded The Imus Cattle Ranch for Kids with Cancer in Ribera, New Mexico. Deirdre is passionate about keeping this healing environment toxin-free. No junk food and no harsh chemical cleansers allowed! After seeing kids thrive at the ranch, she was inspired to bring this lifestyle to another healing place: the hospital. She worked with a team of experts at the Hackensack University Medical Center to develop a line of cleaning products that are effective enough for leading hospitals, but safe enough for children's playrooms. 
Greening the Cleaning® strives to eliminate all cleaning agents containing hazardous ingredients, and replace them with environmentally responsible, less toxic products wherever possible. 
We proudly disclose all of our ingredients. All GTC products are derived from renewable natural resources like plants and fruits. They are safe for our water, soil, food chain and our children. 
100% of all profits from our GTC product line go to the Imus Cattle Ranch for Kids with Cancer, a 501(c) (3) not-for-profit.