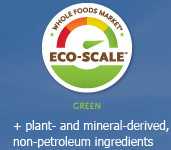 Greening the Cleaning products are the best we've tried in 35 years of owning/running a motel. Besides being kind to the environment, they honestly do the jobs they claim.
—Marje
New York, NY (PRWEB) May 16, 2012
GTC Greening the Cleaning is excited to announce that its product line meets all of the conditions outlined in the top category of the Whole Foods Eco-Scale Rating System for Household Cleaners, the highest standards set by any green cleaning group.
The Whole Foods System requires that products designated in the "green" category meet very stringent criteria, and GTC meets them all with flying colors: our products have been third-party tested and verified; we fully disclose all ingredients on our packaging labels; we don't use any phosphates, chlorine, or synthetic colors; and everything we put into GTC products is environmentally safe, preservative-free, and made from plant- and mineral-derived ingredients.
"Whole Foods has taken great initiative by creating a rating system that will help consumers make informed, safe, healthy decisions about their household cleaning products," said Deirdre Imus, founder and President of the Deirdre Imus Environmental Health Center. "This is exactly what the world of green cleaning has been waiting for, and I'm so proud of our team at Greening the Cleaning for meeting every single one of the conditions to be considered one of the greenest product lines on the market."
In accordance with the strict standards of the Whole Foods Eco-Scale Rating System, GTC does not test on animals; uses 100 percent natural fragrances and petroleum-free ingredients; and ensures all preservatives are formaldehyde-free.
GTC is effective enough for leading hospitals, safe enough for children's playrooms, and easy on the environment. For more information or to purchase GTC for your home or business, please visit http://www.greeningthecleaning.com, or call 1-888-281-7625.
About Greening the Cleaning
From Ranch to Hospital to Home
In 1998, Deirdre and Don Imus founded The Imus Cattle Ranch for Kids with Cancer in Ribera, New Mexico. Deirdre is passionate about keeping this healing environment toxin-free. No junk food and no harsh chemical cleansers allowed! After seeing kids thrive at the ranch, she was inspired to bring this lifestyle to another healing place: the hospital. She worked with a team of experts at the Hackensack University Medical Center to develop a line of cleaning products that are effective enough for leading hospitals, but safe enough for children's playrooms.
Greening the Cleaning strives to eliminate all cleaning agents containing hazardous ingredients, and replace them with environmentally responsible, less toxic products wherever possible.
We proudly disclose all of our ingredients. All GTC products are derived from renewable natural resources like plants and fruits. They are safe for our water, soil, food chain and our children.
100% of all profits from our GTC product line go to the Imus Cattle Ranch for Kids with Cancer, a 501(c) (3) not-for-profit.