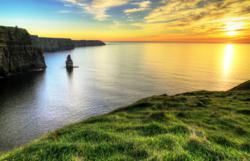 With options ranging from luxurious to the bucolic, you don't have to compromise your standards for a responsible travel experience.
Vienna, VA (PRWEB) April 07, 2013
Global ecotourism concierge Greenloons has designed four unique and responsible family summer vacation experiences in the United States, Central America and Europe for those families who seek travels that respect the world, its cultures, and the future.
"As the popularity of environmentally friendly products has grown over the years, consumers have been conditioned to believe that green goods or eco products equate to more expensive merchandise and false environmental claims," says Irene Lane, visionary founder of Greenloons. "With regard to authentic ecotourism, this is simply not the case. It is possible to participate in ecotourism and stay well within your vacation budget."
"Genuine green travel that incorporates the values of social empowerment, economic viability and environmental responsibility helps families have more meaningful journeys. Best of all, with options ranging from luxurious to the bucolic, you don't have to compromise your standards for a responsible travel experience," adds Lane.
Each of its sustainable, exotic summer vacations range from 4 to 6 days and are listed under $1,800 per person inclusive of accommodations, transport, activities and meals as indicated.
Costa Rica Highlights Wonders is specially designed for the first-time visitor to Costa Rica. Families will experience ecotourism luxury at its best. Activities include hiking through La Paz Waterfall Gardens and Arenal Volcano National Park, rafting down the Pacuare River and relaxing at a luxurious beach eco-resort near Manuel Antonio National Park. (6 days; flexible departures; from $1,200 per person including accommodations, transport, activities, and some meals.)
Zen and Active in the Burren adventure coincides with some of The Gathering Ireland 2013 events designed to help people explore and enjoy their Irish roots. Participants hike across Europe's most extensive karst landscape, listen to traditional music, explore cultural heritage, and enjoy organic, vegetarian meals. There are optional activities (ceramics, kayaking) as well as healing therapies and horseback riding available at affordable rates. (6 days; June 9 – 14 departure; $1,099 including accommodations, meals, entertainment, transport, and guided activities.)
Kenai Fjords Glacier Lodge sits on a Native-owned wildlife sanctuary and offers views of Pedersen Glacier in Alaska. The rugged beauty of Alaska's spectacular seacoast and abundant marine wildlife including Steller sea lions, sea otters, Dall's porpoises, humpback and/or orca whales, bald eagles, puffins and a myriad of other birdlife are woven into the creature comforts of private cabins, a cozy main lodge and hearty gourmet meals. Other activities include sea kayaking and interpretive nature walks. (4 days; flexible departures; $1,795 per adult, $1,495 per child including accommodations, meals, activities, and transportation.)
Swedish Timber Raft Adventure has it all over on Tom Sawyer, rafting through Sweden's southerly wilderness. Guests, under supervision, build their own log rafts before going down the river Klarälven where they pass small villages or just hear the sounds of the spruce forest along the way. Evenings are either in camps or in lodges (guest choice). Other activities include canoeing, photography, fishing, camping and adventure sightseeing. (5 days; June - August departures; minimum age 6 and able to swim; from $1,793 per adult, $1,488 per child up to age 15).
About Greenloons
Greenloons is a premier online travel resource dedicated to inspiring people to think different, be different and travel different – in ways that help to ensure a more sustainable planet. An advocate of social empowerment, financial viability and environmental preservation, Greenloons connects mindful travelers with unique, meaningful and eco-certified travel experiences all over the world.