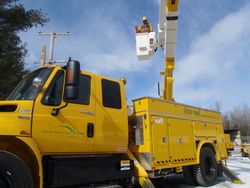 Our customers will immediately notice the difference if the hybrid truck is operating in their neighborhood
Colchester, VT (Vocus) March 4, 2009
Green Mountain Power is taking another step in its campaign to operate with the lowest possible environmental impact by placing the company's first hybrid bucket truck into service.
The addition of the hybrid truck to its fleet underscores GMP's ongoing commitment to reducing its carbon footprint and embracing clean energy technologies.
Rebecca Towne, Green Mountain Power's fleet manager, said, "The new truck will help us meet our ambitious green transportation goals at GMP. In the last three years we've improved fuel mileage 25% through the purchase of smaller vehicles and hybrids, and two conversions of hybrids to plug-in hybrid vehicles. We also encourage our employees to reduce idle time, plan routes carefully and use the most efficient vehicle for each trip."
Here are the operating expectations of the new hybrid technology:

lowers fuel usage up to 60%
lowers idling time by 87%, saving fuel and reducing noise
lowers maintenance costs due to reduced use of the diesel engine
"Our customers will immediately notice the difference if the hybrid truck is operating in their neighborhood," Ms. Towne said. "Lineworkers generally need to run the truck motor to use equipment on the truck. But the hybrid can run off batteries for up to 20 minutes when the truck is parked and the bucket is in operation. This reduces inefficient idling, noise and exhaust at the jobsite."
The hybrid system recovers and stores energy normally lost during braking by charging batteries. At low speeds, the charged batteries power an electric motor that assists the diesel engine to increase fuel economy and reduce emissions.
Head Lineworker Fran Racicot is impressed with what the truck has to offer. "The lower noise level is one of the biggest benefits for both the workers and our customers. I operated the boom on this truck for nearly an hour, and the engine kicked on briefly just a few times. When you add in the positives of less exhaust and better mileage, I think this is going to be a nice truck for us," said Mr. Racicot.
GMP continues to add hybrid vehicles to its fleet as older trucks and cars need replacement.
"This cutting edge technology is a great step for Vermonters. It reduces our operating costs, which ultimately benefits customers, and also directly contributes to the improvement of Vermont's carbon footprint. This is an important investment in the future of transportation," said Ms. Towne.
About Green Mountain Power
Green Mountain Power (http://www.greenmountainpower.com) transmits, distributes and sells electricity and utility construction services in the State of Vermont in a service territory with approximately one quarter of Vermont's population. It serves more than 200,000 people and businesses.
For further information, please contact Dorothy Schnure, Green Mountain Power Manager of Corporate Communications, at 802-655-8418.
###