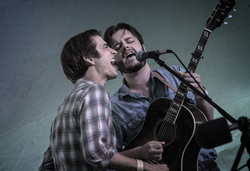 I want people to experience train travel and to hear live music that is wonderful.
Bellows Falls, VT (PRWEB) August 19, 2015
Folk and indie rock musicians will perform live on a chartered train from Bellows Falls to Rutland this fall during the first rail trip of its kind in Vermont.
Roots on the Rails, based in Bellows Falls, will present The Green Mountain Express on Nov. 6-8. Legendary Texas songwriter Jimmie Dale Gilmore, joined by Syd Straw of Weston, Winterpills of Northampton, Mass., and Meadows Brothers of Chester, Conn., will provide a powerful lineup of music on a four-car vintage train on Saturday, Nov. 7.
The round-trip train ride, which is four-hours each way, will climb over the Green Mountains, past covered bridges, villages, farms and gorges while guests listen to the artists perform 45-minute sets.
Roots on the Rails, founded by local artist Charlie Hunter, has offered more than 40 multi-day train trips across the United States and Canada since 2003. Hunter, a former Bellows Falls Village Trustee, says it's time to start offering a musical train experience in Vermont.
"I want people to experience train travel and to hear live music that is wonderful," says Hunter, who also founded the Bellows Falls annual Roots on the River music festival in 1999. "Ultimately, I would like to plan a couple of these trips a year in Vermont. Bellows Falls is a well-known destination for musical events, and I see The Green Mountain Express as a unique way to showcase music at its best."
Since it was established in 2003, Roots on the Rails has mainly focused on providing trips in Canada and the western United States because more train cars are available for charter in those areas. While it's not uncommon to find mystery or dining train rides offered in New England, anyone looking for a multi-day music train in this part of the country will be hard pressed. Hunter hopes that will eventually change.
"There's just something about music and trains. For the people who come on our trips – many of them are repeat customers -- it's a big part of their lives," he says. "My goal is to have a three-day train trip in Vermont from Bellows Falls to Burlington to Bennington and back to Bellows Falls."
Hunter is chartering the Vermont trains from Green Mountain Railroad. The train includes 1930s-era rail cars that were among the first streamliner cars built for the Santa Fe Railway, and the MacIntyre, a deluxe, vintage business car built in 1923, complete with open-end observation platform, brass fixtures, formal lounge and dining room.
Hunter, a painter who grew up in Weathersfield Center and studied graphic design at Yale, worked for many years in the music industry in Northampton, Mass., managing artists such as Dar Williams and Richard Schindell. After returning to Vermont in 2000, he put together a trans-Canadian train trip to a folk music conference from Montreal to Vancouver. That led to the creation of Roots on the Rails, with the first trip from Toronto to Vancouver 12 years ago.
The rest of The Green Mountain Express weekend includes performances for guests at Main Street Arts in Saxtons River on Friday evening Nov. 6, and Popolo restaurant in Bellows Falls on Saturday evening, Nov. 7. Weekend lodging packages are available, as well as individual train tickets for Saturday's performances.
For more information, visit http://www.rootsontherails.com.