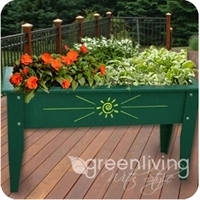 Covington, GA (PRWEB) September 10, 2009
Green Living with Style (http://www.greenlivingwithstyle.com ) has launched a website that offers products that are designed to help individuals become healthier and happier, while caring for the environment at the same time. Composed of recycled materials, innovative style and exceptional quality, products such as Animal Habitats, Planters and Outdoor furniture are the perfect start to an eco-conscious life. All of their products are created to provide many years of enjoyment and are waterproof and resistant to mold, mildew, rot and insects.
Green Living with Style offers a hands-on approach to life and nature that encourages people to interact with the environment through gardening, caring for and observing birds and other wildlife, and just relaxing outdoors. With consumer value in mind, the items are ready to be enjoyed after some assembly and personal finishing. The Animal Habitats and Gardens make excellent "Do It Yourself" family or school projects that also teach the importance of recycling, healthy living and the positive impact people can have on the environment. Green Living with Style is a great source for useful recycled products that look good and "do" good at the same time.
From Outdoor Furniture to Animal Habitats, Green Living with Style allows individuals to make a positive choice for the environment and for life.
The Green Living with Style product line includes:

Standing Gardens - A neat and simple way to grow a herb, vegetable or flower garden.
Bird Houses and Feeders - Traditional and Contemporary Birdhouse Designs
Butterfly Houses - Add a little whimsical touch to any backyard or garden.
Dog Houses - A strong, waterproof and long lasting home for the family pet.
Squirrel Feeders - Provide food for backyard squirrels and they provide entertainment for the family.
Planters - A variety of box styles and sizes perfect for any patio or balcony.
Sandboxes - Easy to assemble design, just add sand and children.
Adirondack Chairs - A relaxing outdoor chair that can withstand the elements.
Swings - Comfortable and long lasting addition to a front porch.
Bat Houses- Encourage bats to live nearby and they will rid the area of mosquitoes and other insects, naturally.
Green Living with Style products are made from recycled nylon fibers, providing consumers a stylish choice in the prevention of planet deforestation while investing in a product that will last.
To learn how to build a birdhouse or to find a fun family or school arts and craft project or to get started on a personal outdoor "masterpiece," visit Green Living with Style at: http://www.greenlivingwithstyle.com
###