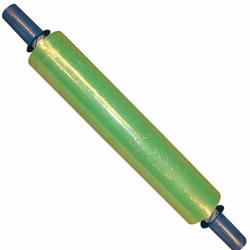 Clearly the 'green' packaging movement is not transient but a growing trend
Janesville, WI (PRWEB) February 29, 2012
Rand Material Handling, a leading distributor of warehouse, storage and packaging supplies, has introduced biodegradable stretch film products. The film, when introduced to soil as in a landfill, will completely degrade within two years. Green packaging, increasingly required by law in some areas, has the same tensile strength as non-degradable products.
"Offering greener solutions just makes sense. While alternatives for packing peanuts, for instance, have existed for years, this biodegradable stretch wrap is the first of its kind at Rand. We believe there will be a growing demand for product like this, and Rand is happy to be on the forefront, bringing it to our customers," states Lisa Sympson, Brand Manager for Rand Material Handling. "As national and local governments adopt more stringent recycling and sustainability laws the awareness and the need for products like biodegradable stretch wrap will likely grow. Customers will want choices and Rand is happy to provide them."
Clearly the green packaging movement is not transient but a growing trend. Over the past decade an increasing number of Fortune 500 companies have created a Chief Sustainability Officer position to address their respective company's recycling, pollution and product waste elimination issues.
The fully recyclable and biodegradable stretch wrap from Rand is available as a hand or machine stretch film and is FDA approved. Prices for biodegradable stretch wrap from Rand range from under $10 to about $100 per item depending on the grade and application. For more information, please contact Rand at 1.800.366.2300.
Since 1972 Rand Material Handling has been a national distributor of warehouse, storage and packaging supplies. The firm carries a full range of materials handling equipment and packaging products. Today Rand distributes over 20,000 quality products and is renowned for its commitment to providing customer service excellence.
###