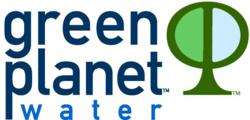 Green Planet bottles reduce dependency on oil and provide an alternative to petroleum-based plastic bottles.
Chicago, IL (PRWEB) November 21, 2011
Category innovator Green Planet Bottling is delighted to provide Green Planet Water to "The Rosie Show" studio audience for the show's debut season. Emmy Award-Winning comedian and actress Rosie O'Donnell made her return to daytime television this fall on OWN (Oprah Winfrey Network). Chicago's Harpo Studios is producing 130 original hour-long episodes of the new talk show. "The Rosie Show" airs on weeknights at 7pm/6pm central and 10pm/9pm central.
Green Planet will provide water for the studio audience before the show, in the green room, for the talent and staff at Harpo Studios, as well as for prizes in Rosie's Gift Bag Giveaway.
"Green Planet is thrilled to provide water in our completely plant‐based bottle to The Rosie Show audience, the green room, and the staff at Harpo," says Danny Rubenstein, President and CEO of Green Planet Bottling. "Green Planet bottles reduce dependency on oil and provide an alternative to petroleum-based plastic bottles."
Green Planet's petroleum and BPA free bottle is filled with vapor distilled water, with minerals carefully added for taste. Green Planet Water is available in three retail sizes: 350 ml (MSRP $.79), 500ml (MSRP $.89), and 1 liter (MSRP $1.69).
Green Planet's unique plant-based bottle is derived from completely renewable plant resources. The bottle is recyclable, commercially compostable and reusable when hand-washed between uses.
"We are a society on the go and access to bottled water is a necessity," says Janet DiGiovanna, Chief Marketing Officer of Green Planet Bottling. "When we're traveling, especially in airports, we need an alternative choice, and Green Planet is the better bottle. The Rosie Show offers a wonderful opportunity for us to share our innovative product with consumers and educate them about Green Planet Water."
Here a few of the environmental benefits of Green Planet Water:

Making the Ingeo source material for Green Planet's bottles produces 60% less greenhouse gases and uses 50% less non-renewable energy than producing traditional plastics like PET & PS. (1)
The bottles are commercially compostable in 84 days. (2)
The bottles are reusable (when hand-washed between uses), which helps to reduce waste.
The bottles are recyclable (in all recycling programs that accept #7 bottles). (3)
Bottles are filled by regional suppliers using water that has been treated by vapor distillation to remove all impurities, with minerals added for taste.
Regional distribution ensures that less fuel is wasted to transport the bottles.
About Green Planet Bottling
Founded in 2009, Green Planet is the leading bottled water company to market a 100% plant-based bottle. Offering the better bottle solution, Green Planet's bottle is recyclable, reusable (when hand-washed between uses), petroleum and BPA free and will commercially compost in just 84 days. The water in Green Planet's bottles is vapor distilled for purity with minerals carefully added for taste. It is bottled regionally for distribution, reducing transit miles and total carbon footprint.
Green Planet Water has rapidly growing distribution and is available in the greater Chicagoland area at select Dominick's (in all by Jan 2012), Sunset Foods, Potash Markets, Lemontree Grocers, Walt's, The Goddess and Grocer, and Country Fair Foods. In the West and Southwest, it can be found in Albertson's, Lucky, SaveMart, Lunardi's, Nugget Markets and Mother's Markets.
Travelers will find Green Planet Water in many international airports, including San Francisco, San Jose, Phoenix, San Diego, Ontario and Portland, Oregon, as well as in hotels such as the SF Hilton, The Del Coronado in San Diego, Mandarin Oriental in Miami, and Hotel Felix in Chicago. In addition, it can be found in museum cafés around the US, including the California Academy of Sciences and The Chicago History Museum.
It is served at Apple, Inc.'s corporate headquarters and many fine dining restaurants such as Greens in San Francisco. Health, wellness and sporting facilities (Yoga Works), various golf and country clubs, as well as college (University of California at San Diego) and high school campuses across the US have embraced Green Planet Water for their members and students.
For the latest updates on Green Planet Water distribution, news and special events, please visit the Green Planet Facebook page: http://www.facebook.com/GreenPlanetBottling .
(1) NatureWorks, http://www.natureworksllc.com/the-ingeo-journey/eco-profile-and-lca/eco-profile.aspx#ghg
(2) From independent study by Biodegradable Products Institute, http://www.bpiworld.org/
(3) http://www.allbusiness.com/chemicals/plastics-rubber-industry-plastics/14119966-1.html
###