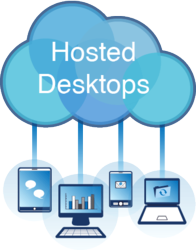 Our goal is to deliver a high quality hosted desktop solution.
Monroe, LA (PRWEB) February 28, 2013
GreenQube decided to upgrade its file servers to Windows 2012. With the advent of SMB 3.0, hosted desktop users have faster access to their data shared out from these resources. Other features in this release of SMB ensure transparent failover of file shares between file server nodes. Feature enhancements to VSS and quota management enable GreenQube to more easily manage backups and file storage for the end user.
According to GreenQube's CEO, Hunter McFadden, the most exciting upgrade was to use SSD's as part of the Hosted Desktop platform. This upgrade has significantly improved the environment by significantly reducing desktop boot time, user logon time, and application launch time. GreenQube was able to reduce these times by at least half of what they previously were.
Other improvements to the infrastructure include new HP blade servers and upgrading the network to 10GB to each blade.
"Our goal is to deliver a high quality hosted desktop solution. One in which the end user will not be able to tell the difference from a regular PC desktop." - Hunter McFadden, CEO, GreenQube
About GreenQube
Green Qube, Inc. is a Hosted Desktop service provider specializing in White Label Service offerings. We provide a complete hosting platform to our partners who want to generate revenue and not have to worry about the backend infrastructure. Help us make cubicles green!
Since 2005, GreenQube has specialized in providing cloud-based solutions, including application hosting and desktop virtualization, for customers in a range of industries. "We are passionate about helping customers use best-of-breed virtualization technologies to increase efficiency, save money, and provide a better work-life balance experience for employees," says Hunter McFadden, CEO, GreenQube. "Continuous improvements in virtualization technology, the rise of the bring-your-own-device (BYOD) model, and more companies looking to maximize their IT investments has led to increased interest in replacing physical PCs with hosted desktops."