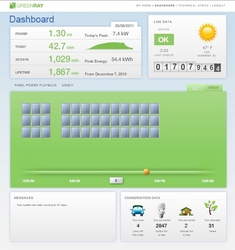 The Dashboard is a key part of the sales strategy since it conveys the most important benefits quickly
Concord, MA (PRWEB) March 14, 2011
Bartlett Interactive, an interactive web design agency, recently launched an online dashboard for GreenRay Solar, that helps consumers see the amount of energy their system generates in real time, as well as the environmental benefits.
A stream of live data is visualized through an animated and interactive display of statistics, charts, graphs, and icons. The dashboard helps the homeowner to measure solar power by the day, week, month, and lifetime of the panels. Taking into account the amount of sunlight available, it shows the amount of energy produced including an animation of the days and week's solar activity and environmental benefits e.g. how many cars taken off the road.
According to Suparna Kadam, Chief Strategy and Marketing Officer at GreenRay Solar, the dashboard becomes the "face of the product…The Dashboard is a key part of the sales strategy since it conveys the most important benefits quickly".
As renewable energy becomes more viable and popular, being able to see actual data becomes a critical part of selling the product. According to Harry Bartlett, principal at Bartlett Interactive and founder of ConcordConserves.org, "There's a great demand by consumers to see how much energy they are producing as well as any information that quantifies an environmental impact or benefit. The GreenRay dashboard is a rich source of data that consumers can easily understand and appreciate".
The dashboard is also useful as a diagnostic tool for GreenRay engineers and installers. Installers can access information for all of their installations and monitor the panels to make sure they are working properly. GreenRay's engineers also benefit from access to large amounts of actual data, which helps inform product development decisions as well as understanding how best to site solar panel arrays.
About Bartlett Interactive - Bartlett is an interactive web design agency, specializing in helping companies increase brand awareness, lead generation and revenue through best practices in website development and Internet marketing. Services include: web design, web development, web application development, Drupal development, e-commerce, Internet strategy, search engine optimization (SEO), e-mail marketing and web analytics. Based in West Concord, MA, Bartlett Interactive communications can be found at http://www.bartlettinteractive.com.
http://www.bartlettinteractive.com
info (at) bartlettinteractive (dot) com
978-369-2472
###