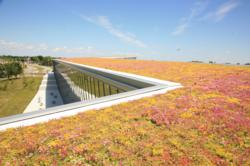 LiveRoof goes up with mature plants in modules that form a green roof as a dense, seamless planted surface. There's no uncertainty about plant establishment with LiveRoof
Spring Lake, MI, USA and Auckland, New Zealand (PRWEB) April 19, 2011
LiveRoof®, LLC, the top horticultural experts in the green roof industry, announced an agreement with Stormwater360 New Zealand to distribute its LiveRoof® Hybrid Green Roof System in New Zealand and Australia. The most biologically sophisticated green roof solution, the LiveRoof® Hybrid Green Roof System is the only green roof installed with full-grown, mature plants already thriving in a healthy, sustainable ecosystem. Stormwater360 offers specialized expertise and a comprehensive range of stormwater technologies and products.
"LiveRoof is superior to other systems being offered in our market. LiveRoof goes up with mature plants in modules that form a green roof as a dense, seamless planted surface. There's no uncertainty about plant establishment with LiveRoof," said Greg Yeoman, director, Stormwater360. "With its unsurpassed horticultural expertise and commitment to support, LiveRoof as a company complements our business model of technical marketing to architects and engineers for specification of solutions."
"Stormwater360 is the ideal distributor for LiveRoof in New Zealand and Australia," said Amber Poncé, business development manager, LiveRoof, LLC. "Their prominence in stormwater management, combined with their understanding of the horticultural requirements for sustainable green roofs in their market, makes them the right partner."
Stormwater360 has expanded into Low Impact Design (LID) solutions, such as biofilters and rain gardens, in order to support at-source approaches to treating stormwater runoff. Fitting naturally into the LID category, green roofs reduce the volume and velocity of stormwater runoff at the source and filter it to improve water quality. Development of a green roof soil mix that is correct for local conditions is an extension of Stormwater360's current testing and production of engineered soil mixes for its biofiltration product offerings. And Stormwater360 is working in cooperation with Lyndale Nurseries, Australia's largest commercial propagation nursery, to localize soil mixes and develop plant species adapted for green roofs in various regional environments across Australia and New Zealand.
The LiveRoof® Hybrid System is the only green roof installed with full-grown, mature plants that are healthy and thriving in a sustainable ecosystem established on the day of installation. Manufactured with 100 percent recycled plastics, LiveRoof modules are compatible with different types of flat roof systems and single-ply roof membranes. LiveRoof modules are the most horticulturally refined in the industry. With LiveRoof, a green roof is a natural biological system, not just a set of separate trays with isolated plants.
The Soil Elevator™, a removable insert that lines the inside of LiveRoof modules, allows growers to fill them up above the top. When the modules are installed side-by-side, and the Soil Elevators are then removed, an uninterrupted layer of soil and vegetative surface extends above and across all the modules. This unifies the soil over the entire roof and conceals the modules under the plants even during dormancy. With LiveRoof, there are no unsightly grid lines on the rooftop, no seams between modules to allow air to escape from the roof below and reduce green roof benefits, and no module edges exposed to the sun to heat up and stress adjacent plants.
LiveRoof's Moisture Portal™, a second innovative feature, provides an opening on the sides of the modules. Soil-to-soil contact is established between modules when they are set in place.
Above, across and between modules, a LiveRoof is a continuous green roof. Uniting the soil maximizes the cohesiveness of the soil and plant roots and allows natural sharing of moisture and nutrients. The roots of LiveRoof plants bind the soil together and hold it in place. The soil itself stores, filters, and releases water — naturally.
With high and consistent year round rainfall, New Zealand is climatically ideal for green roofs. Extensive research on stormwater management has been carried out by Auckland University and other research organizations to establish the benefits of green roofs in the market. New Zealand is a highly regulated country, and green roofs are being introduced into the regulatory system for stormwater mitigation in 2011.
Stormwater360 is a premiere sponsor of the South Pacific Stormwater Conference, which is to be held on May 4-6, 2011 at the Sky City Convention Centre, Auckland, New Zealand. Stormwater360 will be located at booth #14-15.
About Stormwater360
Founded in 1996 in Auckland, NZ, Stormwater360 is a specialist stormwater treatment company with a complete spectrum of products and services to treat stormwater pollution in every rainfall condition. Stormwater360 provides New Zealand's most comprehensive range of stormwater management technologies. In-house engineers and scientists continually refine the company's product range to meet the requirements of customers' specific projects. More information is available at http://www.stormwater360.co.nz.
About LiveRoof®, LLC
LiveRoof, LLC (http://www.liveroof.com) is the horticultural science company that developed the LiveRoof® Hybrid System: the only green roof solution installed as a naturally functioning, sustainable ecosystem with thriving, fully mature plants. Combining the best elements of proven green roof technologies, LiveRoof establishes a seamless vegetative surface rooted in a continuous layer of soil. This design maximizes environmental benefits, energy savings and rooftop aesthetics. Regional growers in its national network adapt LiveRoof plants for local conditions and customize plant selection for every project. LiveRoof's natural function and natural beauty offer the highest level of green roof performance at the lowest level of acquisition-installation-maturation-maintenance costs. The proof is on the roof — showcased in LiveRoof projects that stand out as signature elements on commercial, public, university and school buildings in more than two dozen states and Canada.
###