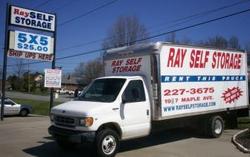 Greensboro, NC (PRWEB) May 2, 2010
Ray Self Storage is proud to announce this summer's College Student Specials for self storage units. In addition to the Free Truck Rentals, Box Discounts, and the 5x5 for $25, they are offering special discounts for students that need to store their items for the summer.
With seniors graduating and dorms closing, many students are in transition during the summer months. The student rush to rent out monthly storage is not all last minute rentals. Don Ray, President of Ray Self Storage, says "Students and their parents inquire about storage as early as February to secure their summer storage." Don has been providing summer storage to students for over 30 years.
Reserving your storage early not only secures your unit for the coming months, but can also secure the better storage specials. Alan Ray, Don's son, remembers a time when storage facilities would completely fill up. "I rented units in Burlington to students from Chapel Hill because all of the storage units in Chapel Hill had been rented and they had no other choice if they wanted to store their belongings locally for the summer." They're easy to access locations make them a premier Burlington storage facility.
Ray Self Storage has expanded to fill the needs of more students during this busy time, but still they expect to quickly fill this new capacity. In addition, they have constructed new offices in both the Burlington and Greensboro areas to better serve the needs of their customers.
Ray Self Storage has specials available with both their regular and air-conditioned units. Students can take advantage of deep discounts that save as much as $75 over a 3 month period. It is these kinds of specials that has made them when one of the leading Greensboro storage facilities.
For more information on student discounts and specials or to reserve your unit, call any of their 6 Triad area locations. You can also visit their website or become a fan on Facebook.
###