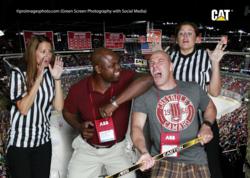 Event Photo Marketing from Professional Images Photography is what makes any business grow.
Miami, FL (PRWEB) June 04, 2013
Green Screen Photography with Social Media and the ability to Email the photo is now available from Professional Images Photography. Many companies offer Green Screen Photography but not with the additional products that Professional Images Photography can provide.
A new product that Joseph Rodriguez owner of Professional Images Photography has created does more. It provides a way to help bring your customers to a Tradeshow Booth, Mobile Events and Special Events to name just a few. When a guests is drawn to a set that offers a photo take away that is pretty much what is expected. What makes Professional Images Photography different is they now can get the photo emailed within seconds along and it can be as simple as thanking the guest for stopping by or sending information about a product, brand, special offer or suggesting guest to visit a social site or website to gain more likes or just more traffic. The options are endless.
The ability to also upload live to the clients Facebook page or other sites is now a reality and this option is often requested from clients. The days of just giving a photo away and hoping the guest's visits a Facebook page or website or even calls back is gone. In addition Professional Images Photography offers Onsite Printing with Social Media using a static background either created or client provided.
Professional Images also offers Convention Photography, Exhibitor Photography, Event Photography or Group Photography services and Social media can be integrated with any. Making a difference using Event Photo Marketing from Professional Images Photography is what makes any business grow.
About:
Since 1987 Professional Images Photography has been providing Conference Photography, Onsite Printing Photography and Event Photo Marketing photography services Nationwide. Based in San Antonio, TX with offices in Houston, Orlando, Washington D.C. and now in Las Vegas, NV.