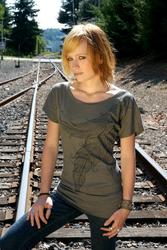 Maximizing Performance in a New Apparel Environment.
Seattle, WA (Vocus) August 26, 2009
David Basson, CEO of organic apparel manufacturer Greensource (http://www.greensourceorganic.com ), will be addressing the issue of sustainability in the global apparel sector at three apparel events in September and October, 2009. Greensource is the ninth largest designer and manufacturer of organic cotton apparel in the world and well known for manufacturing trendy and affordable jeans and tops that are certified to the Global Organic Textile Standard and sold at major retailers such as Walmart ("Faded Glory"), Kmart ("Route 66"), and Kohl's ("ReGen").
The first seminar, entitled "EcoMaterials," takes place at the MAGIC Apparel Show in Las Vegas, Tuesday, September 1, 2009, at 1 p.m. in room N256 as part of the ECOLLECTION show's seminar series. Panelists will explore fiber options, their associated footprints, and the market rationale for using eco-materials in an effort to help industry leaders to ask the right questions when sourcing, ordering and selling.
Basson then spearheads a panel on sustainability at Apparel Magazine's 2009 Apparel Executive Forum October 5 in Coral Gables, FL. The event will focus on "Maximizing Performance in a New Apparel Environment."
He then goes on to be a panelist at the Organic Exchange's "21st Century Sustainable Textiles: A Deeper Look at Key Issues" annual conference October 20-22, 2009 in Seattle, WA.
Apparel magazine named Greensource a "Sustainability All-Star" March 24, 2009 with the editors noting that Greensource's "field-to-shelf involvement in creating a more eco-friendly supply chain is particularly focused on keeping toxic pesticides, synthetic fertilizers, and defoliants out of the water we drink, the food we eat, and the air we breathe."
In addition, Greensource ranked as the 9th largest user of organic cotton in the world for its "Greensource" and "Re-Gen" (Recycled Generation) branded apparel, according to the Organic Exchange Organic Cotton Market Report 2008 released March 31, 2009. If the company's considerable private label production for major retailers were taken into account, the company would actually rank much higher.
According to the report, global retail sales of organic cotton apparel and home textile products reached an estimated $3.2 billion in 2008. This represents a 63 percent increase from the $1.9 billion market in 2007. The top ten organic cotton-using brands and retailers globally were Wal-Mart (USA), C&A (Belgium), Nike (USA), H&M (SE), Zara (Spain), Anvil (USA), Coop Switzerland, Pottery Barn (USA), Greensource (USA), and Hess Natur (Germany).
About Greensource:
Greensource, a trend-forward apparel design and manufacturing company based in Seattle, WA, is one of the nation's largest suppliers of private-label and branded apparel made with organic cotton. OrganicInStock.com, a division of Greensource, is a large supplier of certified organic cotton blank T-shirts for the men's, women's, and children's markets.
Contact:
Sandra Marquardt
301-592-0077
smarquardt (at) onthemarkpr (dot) com
###