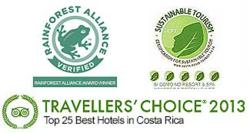 With worldwide attention on global climate change, we [Greentique Hotels] are starting to see a steep climb in interest towards properties that adhere to sustainable business practices.- Jim Damalas
Manuel Antonio, Costa Rica (PRWEB) May 22, 2013
All over the world we are witnessing climate change and as this begins to impact our lives, more and more businesses are recognizing the importance of lowering their carbon footprint. Greentique Hotels is a chain of hotels credited with promoting sustainable tourism and over the past 24 months, they have begun to see incredible growth within this sector.
Greentique Hotels is an emerging eco-conscious hotel chain headquartered in San Jose, Costa Rica. The aim is to provide an authentic Costa Rican experience while remaining luxurious and sustainable at the same time.
Greentique Hotels is proudly recognized not only in Costa Rica but throughout the world as a pioneer and leader is sustainable tourism. Their efforts, ongoing programs and operations have resulted in receiving some prestigious honors including the 2009 Corporate Sustainable-Trend Setter Award from Rainforest Alliance that was presented by Gisele Bündchen a Brazilian fashion model and goodwill ambassador for the United Nations Environment Programme.
As repeat 5 Green Leaf CST winners for sustainable tourism in Costa Rica, Greentique stands testament to providing an exceptional vacation experience without sacrifice while remaining conscious of the environment and practicing "green-friendly" operations. The award is based on the degree to which businesses comply with a sustainable model of natural, cultural and social resource management.
Greentique ambassador and founder, Jim Damalas, had this to say...
"With worldwide attention on global climate change, we [Greentique Hotels] are starting to see a steep climb in interest towards properties that adhere to sustainable business practices."
A few such properties include the renowned Manuel Antonio hotel, Si Como No. This flagship property of GTH represents the perfect example of the balance between luxury accommodations and sustainability.
Villa Blanca is another hotel situated in the cloud forests of San Ramon that offers the exclusive - and authentic - cultural Costa Rican experience so many travelers come to witness. From the quaint "casitas" decorated in true heritage fashion, to the inhouse clay fireplaces built in to each one, the entire experience at Villa Blanca is one of authenticity.
As Costa Rica's premier eco-lodge, Aguila de Osa offers up the finest sport fishing and diving of anywhere in the country. Situated above the shores of Drake Bay in the Osa Peninsula, Aguila de Osa provides posh accommodations deep within the Costa Rican rainforests while bordering the world-famous Corcovado National Park and Caño Island National Park.
With climate change rapidly accelerating, more travelers - seasoned or otherwise - are beginning to pay attention to their carbon impact and as a result we are starting to witness a shift in hotels and resorts adjusting to accomodate this emerging niche.
As the recognized leader in sustainable travel, GTH continues to provide exceptional Costa Rican experiences throughout its member hotels across the country.
About Greentique Hotels
Established in March 2004, Greentique Hotels would soon become one of the major players on the global sustainability movement. Winner of countless international and national awards & recognitions, Greentique Hotels believes in sustainable "green" travel. For more on Greentique visit their website at http://www.greentiquehotels.com.
Currently there are three GTH members in Costa Rica and they are:
Si Como No - http://www.sicomono.com
Villa Blanca - http://www.villablanca-costarica.com
Aguila de Osa - http://www.aguiladeosa.com