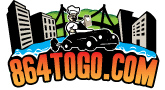 I believe that the success of my business is based on customers receiving friendly service, a wide variety of food delivery options that allows them to order exactly what they're in the mood for every time, and getting their food hot and fresh.
Greenville, SC (PRWEB) November 30, 2012
864ToGo.com is a website that arranges for food delivery and catering from many of the best restaurants in Greenville, SC. The company started small in September of 2011, and over the past year has achieved significant growth that has made it a favorite go-to site among Greenville locals. Until 864Togo.com's service became available, people who wanted their food delivered had very limited options. Typically in Greenville, SC pizza delivery and Chinese food delivery are the only choices. This business clearly filled a need in the community, and this small business's significant growth in their first year is proof. In November, 864ToGo.com began offering delivery from their 20th restaurant, more than doubling their initial restaurant offerings. Stax Epic Curean, a long-time Greenville favorite, was the 20th restaurant to be offered for delivery and online ordering. Other Greenville restaurants that offer delivery and takeout service through 864ToGo.com include Wild Wing Cafe, and Liberty Tap Room.
864ToGo.com was founded by Timothy Connor-Murphy in September of 2011. In the 14 months since opening, the company has grown from offering 8 restaurants to the 20 they deliver for today. Mr. Connor-Murphy already owns and operates two similar business: 256ToGo.com in Columbia, SC and BooneTakeOut.com in Boone, NC. He has drawn on his experience and success to operate 864ToGo.com utilizing an efficient and streamlined business model that provides customers with the widest possible selection of online food delivery and takeout food options as well as exemplary service and competitive pricing.
"I began working for BooneTakeOut.com in 1998 as a part time job while attending college," said Mr. Connor-Murphy when asked about his start in the world of small business. "I continued to work there for the duration of my schooling, and when I graduated I would often joke with friends that I had earned my Master's in School Counseling, but had also earned a PhD in food delivery. I handled every aspect of the business from delivering food to marketing, payroll, restaurant negotiations, and scheduling. My first company, 256ToGo.com, has succeeded beyond my wildest expectations. I earned enough from that company to be able to invest in acquiring BooneTakeOut.com and founding 864ToGo.com, both within a year of each other. Getting to 20 restaurants is a great milestone achievement that I'm very proud of, as in my past experiences that seems to be point where this type of business takes the next step forward."
Mr. Connor-Murphy was then asked what his method for success entails and responded by saying "I firmly believe that the success of my business is based on customers receiving friendly service, a wide variety of food delivery options that allows them to order exactly what they're in the mood for every time, and most importantly getting their food hot and fresh, like it just came out of the kitchen. All of my drivers utilize state-of-the-art "hot-boxes" to ensure food doesn't get cold in transit, and I've honed the system of dispatching drivers down to a near-scientific level so we always have a driver waiting at a restaurant when the order comes up so orders never sit on the counter."
864ToGo.com makes available a wide variety of Greenville, SC delivery restaurants available to a large number of zip codes in the area. The company fills a variety of order sizes, from a quick sandwich at lunchtime to providing catering from high-end restaurants for upwards of 30 guests in corporate environments. People interested in learning more, or restaurants interested in having their food offered for delivery by 864ToGo.com can visit the company's website or call 864-990-3030.
About 864ToGo.com: 864ToGo.com is a website offering food delivery and takeout from the best Greenville, SC restaurants. The site offers a wide variety of delivery choices including pizza delivery, Thai food delivery, wings delivery, Chinese food delivery, sushi delivery, Japanese food delivery, and traditional American cuisine.