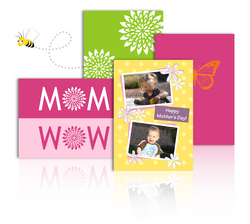 Phoenix, AZ (PRWEB) April 28, 2009
Photo cards and printable greeting cards are now a part of the 21st century with the launch of GreetingBee.com, an interactive, easy and fun site that lets consumers take control of the greeting card. Instead of endlessly browsing a pre-designed selection of stock like at other card vendors, GreetingBee.com users are able customize and personalize a card from start to finish with photos, illustrations and even their own text. Launched by veteran computer game developers with more than two decades of industry experience, GreetingBee.com features cutting-edge card design technology and a vast library of graphics.
GreetingBee.com is on a mission to revive the thrill of receiving a paper card and remove the hassle from the process of sending one. GreetingBee.com calendar reminders will ensure that a special anniversary, graduation or birthday doesn't get lost in the shuffle. As the date nears, an e-mail reminds customers to design and send a card. Customers can even pre-design a card and schedule an automatic mailing at the appropriate time to an address stored in their GreetingBee.com address book.
When it's gift-giving time, GreetingBee.com has it covered by offering gift cards from several major brand-name retailers. When added to an order, a gift card will be tucked safely inside the custom greeting card until arrival at its destination. It's the easiest, most ideal gift solution for even the most particular of people. The final order always includes postage, so the greeting card arrives with a first-class stamp affixed as if mailed by the gift-giver.
All printable greeting cards and photo cards from GreetingBee.com use the same high-quality card stock found at local card stores, with FSC-certified recycled paper and environmentally-friendly inks. The GreetingBee.com experience offers higher value at a price comparable to traditional greeting card outlets, so skip the time-consuming trips to the card store and post office. Log on today and bring a time-honored tradition into the 21st Century.
For more information about GreetingBee.com, or to get started designing and customizing photo cards and printable greeting cards, visit http://www.GreetingBee.com.
# # #