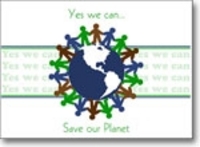 It's truly inspiring to see school age children wanting to do their part to help the environment
New York, NY (PRWEB) April 15, 2009
Just in time for Earth Day, CardsDirect.com has created an Earth Day Card Campaign that encourages primary school children (K-5) to do their part to save our Earth.
Throughout April, New York City public school children have utilized CardsDirect's specially-designed greetings printed on 100% recycled card stock, to pledge what they will individually do to help save the earth. The pledges represent their personalized, direct response to President Barack Obama's call for a "New Era of Responsibility."
Cards, provided by CardsDirect.com, were distributed at the beginning of the month to several participating schools and will be sent directly to President Obama at the White House. Schools involved include: PS 161 Don Albizu Campos School and PS 375 Mosaic Preparatory Academy in East Harlem and PS 124 Yung Wing Elementary School in Chinatown.
"It's truly inspiring to see school age children wanting to do their part to help the environment," said Ward Mahowald, Founder and CEO of CardsDirect.com. "The program helps kids understand the value of implementing small changes and our hope is that the President will receive these and know his words are being heard by people of all ages."
The cards being sent to the President are part of CardsDirect's recently launched line of recycled greeting cards, filling a void in the marketplace for bulk greeting cards. They were design especially for the Earth Day Card Pledge Campaign. Recycled greeting cards from CardsDirect.com are available in many categories including Birthday, Thank You, Sympathy, Get Well, Anniversary, and more. As with all CardsDirect.com cards, recycled greetings may be custom imprinted and personalized in your choice of fonts and color of ink. Their line of recycled photo cards includes all this and your favorite photograph. Cards average $1.25 each for 100 cards and may be purchased in minimum batches of 25.
Please log onto http://www.cardsdirect.com and click on "Recycled Cards" to view all the wonderful designs in this category. For Media Information/Samples (available to Media Only) please contact Kaitlyn Reilly at Fox Greenberg 212-334-1212.
Contacts:
Fox Greenberg Public Relations
212-334-1212
Jeannine Magno
Jeannine (at) foxgreenberg (dot) com
Kaitlyn Reilly
Kaitlyn (at) foxgreenberg (dot) com
###